About ChanE's Experience!
Hi! 😃 My name is Chané Roodt, and I'm an accounts manager here at Pearl Lemon.
I love music, nature, and a little bit of adventure. I'm also a shy person but I'm very direct in my communication.
I'm a big fan of the outdoors and enjoy having adventures with my friends during weekends. The best part of my job is working with different people every day and learning new things from them.
My Time At Pearl Lemon Has Been Valuable
It's not hard to see why my time at Pearl Lemon has been so valuable to me.
First of all, I've had the opportunity to work with a great team. The people here are really fun and they have a lot of great ideas. They're also really open to hearing mine, which is something that I really appreciate.
Secondly, I've learned so much about what it takes to be part of a corporate business – and it's been amazing! When I first started working here, all I knew was that we did SEO, but now that I'm more involved in the day-to-day operations, I've gotten a much better idea of how the entire business works.
Finally, the experience has made me more confident in my abilities as an individual. When you first start out at a company like this one (or any company), there's always some uncertainty about whether or not you're going to be able to succeed in your new role – but now that I've had some time under my belt and seen how well things are going for us as an organization at large? Well… let's just say that if someone asked me whether or not this is something that they should pursue once they graduate college (which happens fairly often), then I'd tell them "YES!" without any doubt in my mind. Hell, they don't even need to go to college to work for this company! All you need is the right attitude and mindset.
What I've Learned
At Pearl Lemon, I've learned how to be multi-functional. I was a generalist before – I did everything but nothing well. But now I can do so many things in so many different ways that it's crazy!
Time management is also something I've gotten better at. At Pearl Lemon, we have very tight deadlines and a lot of work to do in a short amount of time, so it's vital for us to be able to manage our time wisely.
Organisation skills are also a big deal here at Pearl Lemon – we're constantly organising our files and folders, which means we're learning how to stay on top of things even when we're under pressure.
Last but not least, my self-confidence has really grown during my time here at Pearl Lemon. The company is full of people who believe in me, and I'm surrounded by people who are willing to teach me anything that they know – and that makes me feel like the most capable person in the world!
The technical skills that we learn while working here are also incredibly valuable – not just because they help us with our jobs, but because they help us prepare for the digital world ahead of us!
What Attracted Me To Pearl Lemon?
I LOVE Pearl Lemon because they're forward-thinking, they're encouraging colleagues, and they have a fantastic work culture.
Pearl Lemon is constantly looking for new ways to improve their business, and it's great to see that they don't just stick with the same old thing. They encourage employees to be creative and come up with new ideas that can help the company grow. They also make sure there's plenty of room for people to learn and grow at their jobs.
The best part of working at Pearl Lemon is how much everyone cares about each other. You know you're always going to get help when you need it here, which makes me feel like I can really be myself while still doing my best work.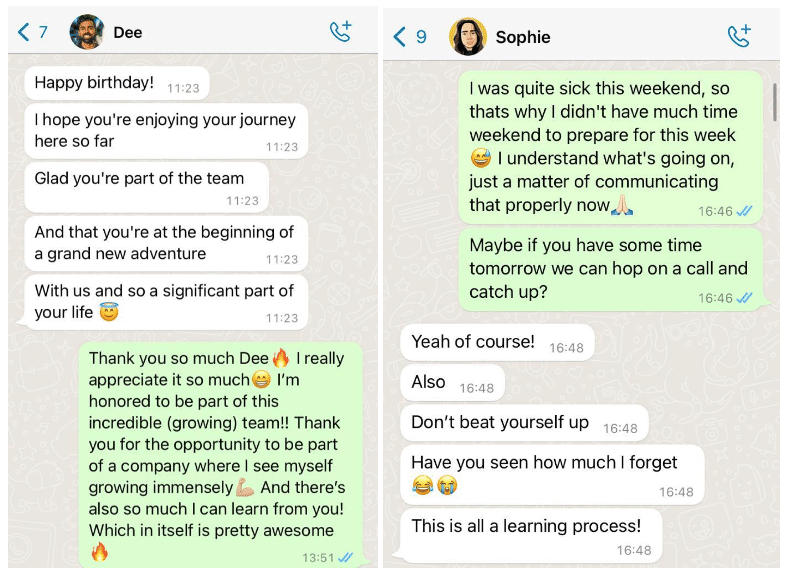 Challenges I've Overcome
Adjusting to the fast pace at Pearl Lemon was not easy for me.
When I first started, I was used to working at a slow, steady pace – but now I'm in a place where we're always hustling to get things done and keep up with demand. It's been a valuable learning experience!
I also had to get used to the fact that many of my coworkers are in different time zones from me. This means that sometimes I'll have an idea for something and no one will be awake to talk about it until hours later, or sometimes even the next day. This is something I've had to adjust my schedule around as well as learn how to communicate better when working across time zones. But luckily, more and more people from my country are starting to join the team so that's exciting.
Finally, separating work life from home life has been a challenge. It's hard when you're so passionate about what you do – it's easy for your mind and heart to take over your life outside of work hours too! But luckily our team is pretty great about staying focused on work during work hours and then having a good old laugh in the Water Cooler WhatsApp group.
Who It ISN'T For
Pearl Lemon is not for you if:
You're

not ready to work hard and give it your all

every day. We're a fresh company with big goals, so we need everyone on board with the idea that we put in the hours and get things done.

You're

not willing to work in a team environment

. We believe strongly in collaboration and teamwork, and we want people who are excited about the idea of working with others to make something great happen together.

You

don't want to be part of a company that values transparency and communication

and

treats its employees with respect

. We want people who understand how important it is for us all to be able to communicate openly and honestly with each other – no matter what role we play in the company – so that we can build something great together!
My Final Thoughts
There's a lot to love about Pearl Lemon, and something for everyone!
First, there's the community. We all have our own special talents and skills, and we're always willing to help each other out in order to grow together as a team. We care about your success and want you to succeed, too!
We also love the fact that we're growing at a fast pace. That means we have more opportunities for everyone who wants them – and more opportunities for you! Everyone at Pearl Lemon is committed to helping you succeed, so if you're looking for a new career or just want a change of pace, this is the place for you.