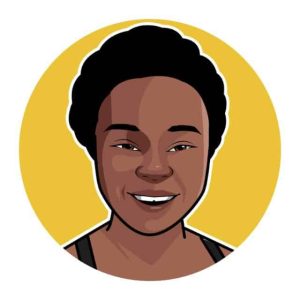 Marise Mubili is a PR Specialist at Pearl Lemon, where she has been working for three months, during which her knowledge has grown significantly. Initially starting as a part-time intern, Marise was pleasantly surprised when she was offered a permanent position as a PR Specialist, which brought her immense happiness.
Living in South Africa, Marise found job hunting to be a tiresome activity due to the demanding requirements imposed by many organizations. However, Pearl Lemon proved to be different by overlooking her lack of experience and providing her with a three-day trial to showcase her abilities. This trial period, a rarity in today's fast-paced world, served as Marise's saving grace, and she received a warm welcome from Bianca, the HR Head, who guided her through the company's workflow.
Marise quickly adapted to the situation and the company's atmosphere, as she is always ready to embrace new challenges. Bianca, the HR Head, proved to be a cool and understanding resource whenever Marise had questions, showing patience and support. Marise had the opportunity to cross paths with Catherine from the accountability department, who impressed her with reliability, trustworthiness, and organizational skills. Although their acquaintance is still relatively new, Marise believes that if she were to meet Catherine in person, they would become great friends.
While facing occasional difficulties and moments of self-doubt, Marise takes inspiration from the young employees within the company, who defy age barriers and excel in their roles. Witnessing dynamic friendships among her colleagues, she appreciates the relaxed atmosphere created by interactions between Sophie and Ion during weekly meetings, fostering a sense of balance within the agency. Marise also highlights her positive interaction with former PR writer Nadzwa, who willingly helped her with articles. After Nadzwa's departure, she found a reliable go-to person in Simeone, another PR Specialist, who demonstrates exceptional writing skills.
Although there have been instances when Marise struggled to complete her tasks without assistance, she is grateful for the support she receives from her colleagues in finding solutions. Pearl Lemon also provides access to training videos directed by the CEO, which initially posed a challenge for Marise to balance with her workload. However, with determination, she completed the training, gaining valuable insights into client consultations, and camera positioning, and displaying confidence when handling tasks or campaigns.
Marise acknowledges that her journey as a PR Specialist at Pearl Lemon has just begun, and she embraces the opportunity for growth and improvement within the agency and the PR field as a whole. The CEO's success in managing the agency remotely has been inspiring for her, reinforcing her belief in achieving her own goals through dedication.
Initially, Marise found the role of a PR Specialist at Pearl Lemon extremely challenging due to her lack of experience and the need to develop efficient techniques to overcome obstacles. However, the warm and welcoming atmosphere at the company, coupled with the guidance and support from her colleagues, helped her navigate her first month successfully and survive the probation period. Throughout her second month, she gained a deeper understanding of the complexity of a PR Specialist's responsibilities, including managing the company's reputation, building relationships with stakeholders, and addressing criticism.
Working at Pearl Lemon has exposed Marise to various cultures and industries she had never encountered before. The diversity within the agency, with employees from different backgrounds and countries such as India, the Philippines, Nigeria, and South Africa, has been a source of fascination for her. She appreciates the absence of racism and discrimination within the agency, creating an inclusive and enjoyable working environment.
Marise commends Pearl Lemon for recognizing the leadership skills of women, as most department heads are women. This positive representation is significant, considering the prevalent underestimation of women in the industry. She also values the company's emphasis on hiring young individuals who bring fresh ideas, passion for learning, and a collaborative spirit, leading to a different and vibrant work dynamic at Pearl Lemon.
Marise's growth as a PR Specialist is attributed to the support and guidance of her manager, Pearl, who regularly provides direction and monitors her work. This level of investment in employee development is rare and has motivated Marise to take on challenging tasks and continuously improve her skills. With an amazing team at Pearl Lemon, united and dedicated, Marise believes they will make a significant impact in the digital marketing world, fueled by their unity and hard work. In line with Pearl Lemon's motto, they are committed to growth.