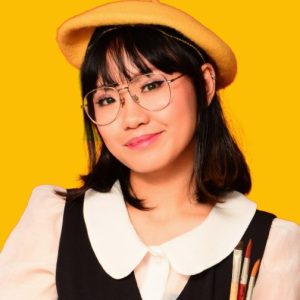 Mika, a talented PR Specialist, holds a prominent position at Pearl Lemon, where her exceptional communication skills and strategic thinking allow her to elevate brands and forge meaningful connections. With a keen eye for detail, she is responsible for developing captivating narratives, managing media relations, and implementing successful public relations campaigns.
Thriving in the dynamic and fast-paced environment at Pearl Lemon, Mika embraces the constant challenge of finding innovative ways to promote clients and generate positive publicity. Her talent for storytelling enables her to carefully craft messages that resonate with target audiences, ultimately enhancing brand visibility and reputation.
Working at Pearl Lemon has been transformative for Mika, both professionally and personally. The collaborative and supportive team environment fosters her creativity and enables her to continuously refine her skills. The company's commitment to innovation and staying ahead of industry trends serve as a constant motivation for her to push boundaries and deliver outstanding results.
Beyond her professional achievements, Mika finds deep fulfillment in her role as a PR Specialist. Assisting clients in achieving their goals and positively influencing their industries gives her a profound sense of purpose. She values the ability to shape public perception and build enduring relationships with stakeholders, contributing to her overall satisfaction.
However, amidst her success in public relations, Mika experiences a tinge of sadness due to the limitations on pursuing her passion for art. While financial constraints have prevented her from fully immersing herself in the art world, she possesses an innate talent and unwavering passion for artistic expression.
Art has always played an integral role in Mika's life, offering a creative outlet and a means of self-expression. Despite not being able to pursue her dream of becoming a full-time artist at present, she remains steadfast in her commitment to artistry. During her spare time, she continues to create and explore different mediums, viewing art as a form of personal therapy and rejuvenation.
Driven by ambition, Mika dreams of becoming a successful and renowned digital artist, leaving an indelible mark in the art world with her unique creations. She is dedicated to continually honing her craft, seeking opportunities for growth and learning as an artist.
Balancing her studies, work, and personal life with remarkable diligence, Mika embodies the spirit of a true artist. Fueling her passion for arts and crafts, she maintains an unwavering pursuit of her dreams.
In the future, Mika envisions herself as a recognized figure in the digital art community, showcasing her work in galleries and collaborating with fellow artists. Her ambition is matched only by her unwavering determination to overcome obstacles and achieve greatness in the realm of digital art.
The proximity of her career as a PR Specialist and her unfulfilled artistic aspirations serves as a driving force for Mika. She envisions a future where she can combine her expertise in public relations with her artistic talents, potentially working with clients in the creative industry or launching her own art-centric endeavors.
In the meantime, Mika remains devoted to her role at Pearl Lemon, embracing the opportunities it provides for professional growth and tangible impact. She is determined to continue nurturing her artistic abilities, firmly believing that one day she will fully embrace her love for art while leveraging her public relations expertise to reach even greater heights.