A lot can happen in one month.
I didn't realize this until the end of May when I was transitioning from a content writer to working in social media and HR.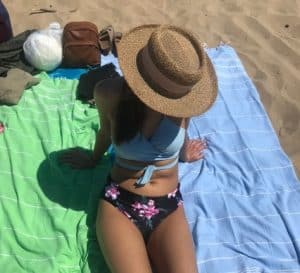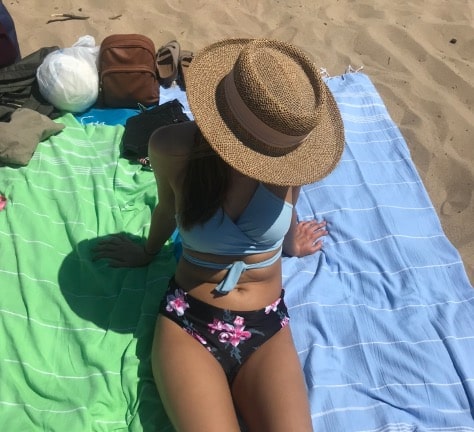 What an exciting experience it has been!
I've been learning a lot, especially on how to make time for things that matter.
Like going to the beach and enjoying the fact that I am done with school! 🙅‍♀️
This is what I love about Pearl Lemon: I can work wherever I want. I can work inside in the comfort of my own room, or outside in the sunshine.
The flexible environment and hours have had a big impact on my mental health and personal growth.
What I've learned
A month ago, I wrote about 2 goals I wanted to accomplish before June 8th, and I'm happy to say that I've superseded my goals!
I think the month of April was a tough month for me, especially mentally, but May was a month of personal learning and astounding growth 💪. I started to finally work on those habits I've wanted. And I am putting in the time for development both professionally and personally.
May Goals Completed
Self-discipline —

This goal was a lot more personal. For instance, this month I said no to sugar, yes to waking up early. I also said yes to reading and no to unlimited entertainment.

It opened my eyes to how hard habits can be to develop. I can't listen to my feelings and I can't listen to failure. I did not follow these habits to the T every day- I often messed up.
But I'm so grateful that I am not my mistakes and that I am only making progress! These habits will ultimately follow me into my professional life (ie. being able to do necessary tasks that aren't always my favorite or normally wouldn't have much motivation for).
Learning A LOT —

I've been learning a lot in my personal life but as for here at Pearl Lemon, I have learned many new things now that I am in the HR and social media role. Here are the top three:

How to communicate better with people

.🗣

When I reach out to an applicant, contact a university, interview applicants, manage social media, create a sheet of ideas, or send out updates/reminders to the team, I'm always paying attention to how it'll come across.

Editing and more writing

.📝

I've been editing and updating the Toolkit, reaching out to applicants, writing emails, and creating the company mission statement. All of these have challenged me with how I word things, how many words I use, and how to best say something according to my audience. I LOVE it because I am still using my writing skills and being challenged in a new way!

Brainstorming

.👩‍🎨

In the last couple of weeks of May and the first week of June, I was asked to help brainstorm ideas for social media, internal team improvement, web page improvement, the mission statement, to carry out those ideas, and more! This experience has taught me to think critically and outside the box. I am proud of what we've accomplished but I think I could improve in this area and I plan to continue to practice my creativity.
Team Meeting Take-Aways
As always, I learn so much from Team Meetings, even if it is a topic I've already heard about, Deepak has a new perspective that helps me have a better understanding.
HABITS
So there are two habits I have learned (and continue to work on):
I practiced what I learned this past month (Phil 4:9). I learned about strategies to keep promises to yourself (consequences and rewards). For instance, if I get out of bed in the morning, I reward myself with a walk outside. I am more disciplined in my new habits.

We also talked about how 80% of outcomes come from 20% of input. So why put in more time than you need to? For example, if I'm reading a blog but I already obtained all information I need, why finish if it's not needed? Know when it is time to move on.
Meeting Agendas
One of my team members and I scheduled a meeting with Deepak last week but we came to the call unprepared. I had made a mistake; I knew as soon as I got on the call. Despite the failed call, I learned several things I will be sure to implement in the next video calls I have:
Establish what you will talk about at the beginning of the call to make sure you have an outline and a goal at the end.

Even if ideas are good, they won't be understood if they're not presented in the right way.

Present in a succinct and understandable way.

Always come prepared, understanding the full width of your proposal, topic, ideas with research beforehand.
My Future Goals at Pearl Lemon
As I continue my work here at Pearl Lemon, I am looking forward to three things:
Keeping my word.

This involves learning when to say yes and when to say no. I often have said yes to something and then realized I never had the time or energy to complete the task.

Organization.

This goes hand-in-hand with the last goal. I want to be more organized with my tasks and time. That way, I can know when to say yes and when to say no.
Creativity

. I want to be more creative with my words and tasks. Although I've come up with several good ideas that I'm proud of, there are two more tasks this month that I do even better on. I don't want to settle (and I'll know if I do).
Conclusion
So far, I love my new position at Pearl Lemon. As an HR and Social Media Manager, I can still use my writing skills. Also, I am learning interpersonal skills and communication I wouldn't have otherwise learned as a content writer.
These new tasks are thrilling because they challenge me to get out of my comfort zone and adjust to new ways of thinking.
I'm looking forward to the following weeks and what I'll learn next.