About Prudence's Experience!
Hey Everyone, my name is Nanyanzi Prudence Joan. Though I would like to be referred to as YANZI-a content writer at Pearl Lemon. This is the end of my six-month internship at Pearl Lemon. It seems like it has been a long time, but, in all honesty, this has been the shortest time of me doing something productive in my life.
When I first sent in my application, I didn't think I would come this far. I was riding on hope, but oh well: I believe it was meant to be that I became part of the group. Let me take you through my time here.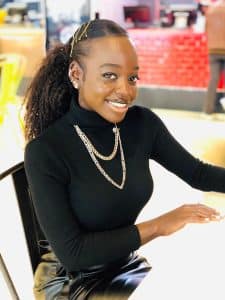 Where it all begun
Unlike so many people in my circle, I believe I'm talented in many things. I graduated with a bachelor's in Journalism and Mass Communication in early 2020. However, what was supposed to be an early start after school became really confusing ( that pandemic hit). But we are not here to talk about that. So, since we had to spend most of our time indoors, I looked for ways to channel my energy.
Writing was not my initial passion( I do hairstyling and Music on the side). But, I always found myself writing short stories, which I would post on my socials( they had some excellent feedback). These reviews were a good booster. I knew I wanted to make writing a career; I just didn't have where to start from.
A friend who had read some of my content sent me a link about open internship placements back in August. I knew it was time to step out of my comfort zone, sent in my application, and within a few days, I received the confirmation email.
Week 1(Trial and Error)
Week 1 one was terrible. I was given the task of writing five blogs. They were supposed to give the team an idea of my writing style, but I failed terribly. It was so embarrassing, but I travailed. Pearl, the head of content then, gave me a second chance, and I nailed it.
Month 1
This has got to be the best month for me so far. I got to learn so much. My writing changed so much in so short a tie. I learned how to use software like Grammarly, Frase, Page optimizer pro, Google (sheets, docs, chrome extensions), etc. My primary roles were to write blogs and guest content. My biggest highlight is that I won the Intern of the Month Award.
What a great way to start my placement!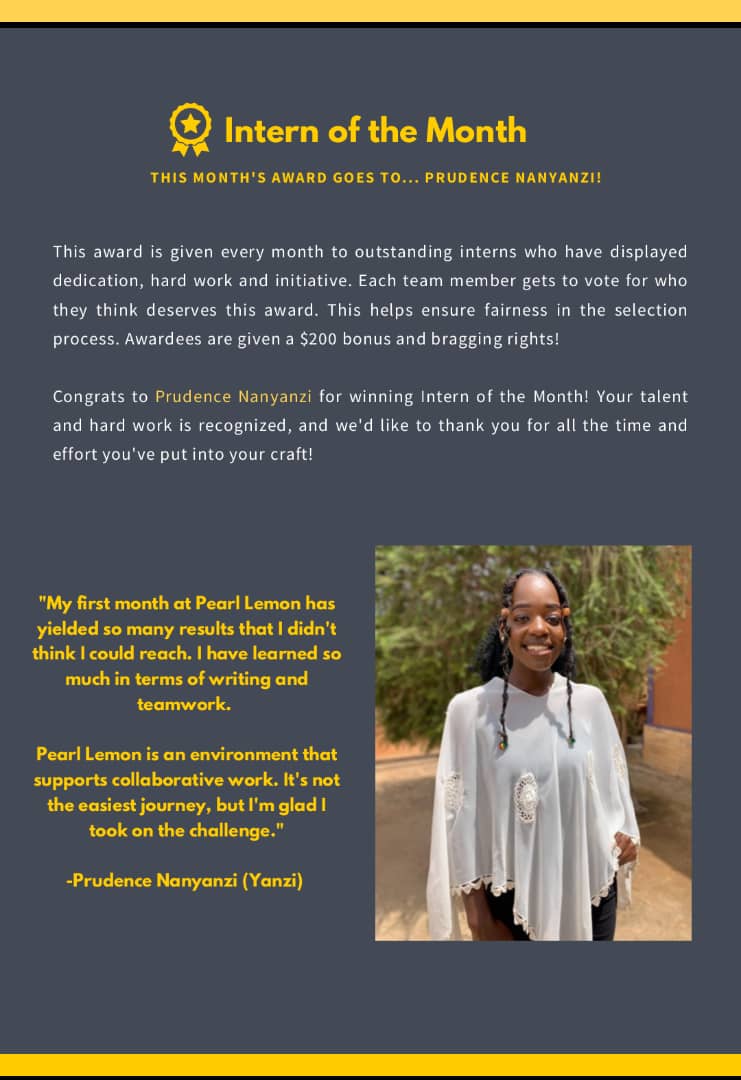 Month 2
I had grown much more into the Pearl Lemon's structure. I got assigned a few more tasks, like scheduling the content calendar for Send Koala on the LinkedIn, Twitter, and Facebook profiles. This task gave me an insight into how social media management works, and I have been using this trick with my personal social media accounts.
Month 3-4
These months were a little more hectic than the first two. The workload increased, but I was up to the challenge. The number of blog posts increased. Around this time, we were introduced to service pages. The transition was huge. We are writing to sell; however, I blended in pretty quick. There was a "writer's competition" around this time, and guess what, I won it.
Month 5
This was the most challenging month so far. I messed up on so many projects, and Dee was on my case(in a good way). I cried a couple of times, but that happens to the best of us. I experienced alot of writer's block so many times. Alot of my writing didn't make sense even to me. I questioned my ability so many times, but what kept me pushing was that I came this far. Giving up was not an option, and the weekly team meeting played a massive role in changing my mindset.
My everyday go-to inspiration is "Do what you love, and you never have to work a day in your life."
I love writing, so a setback is just a stepping stone to see what I can do better.
Month 6
Here we are. The last month is upon me. But, it seems like the shortest time ever. I love it here. My growth is visible. I really hope this journey doesn't stop here. There is alot more to learn.
My Biggest Lessons
Writing styles
Every project that I have written during my stay at Pearl Lemon has been different. I need to get into the writing style of what's required. Our clients are different, so each has a tone and style that they like to associate with their brand. That is something to brag about on my end.
Teamwork/ online communication
Because we work remotely, All communications are literally made on mainly Whatsapp and email. I have learned how to keep up with my phone, considering it's one thing I never used to pay much attention to. But oh well, things change, don't they?!
The END?
No, this is not the end for me. This opportunity to wp/work with the team at Pearl Lemon came like a knight in a shining amour for me. I have learned alot. I surely do not think this is the end for me. This is only the beginning.
Cheers to good times ahead.