About saurabh's Experience!
Hello everyone,
You are probably visiting Pearl Lemon Placements and checking the testimonials from people who have worked as a part of the 100+ global Pearl Lemon team.
After reading this you'll get a better idea of what it is like to intern at Pearl Lemon, and hopefully help you make a more informed decision on whether Pearl Lemon would be a good fit for you (and vice versa)!
So let's get straight into it.
My name is Saurabh, and at the time of writing this testimonial (Jan, 23) I have been a part of the SEO team for just over 6 months. I just turned 45 and have worked extensively across various industries with an entrepreneurial background, including agrochemicals, high fashion, retail, telecom, energy usage, and construction and engineering.
I switched over to the digital marketing field during the pandemic and was extremely lucky to get my first digital marketing job (through Internshala) as an SEO executive at Pearl Lemon in July, 22.
It has been a wonderful (and steep) learning experience ever since. Be mindful the learning at Pearl Lemon never ends.
Let's have a closer look at my journey.
In the beginning, I had a 3-day trial period where I could experience the team's work culture and get a sense of the role I would be playing as an SEO executive.
During the trial period, you are given tasks to perform and evaluated based on your performance. Instructional videos in the form of Looms, briefings, and guidance are provided on how to perform the tasks (if you're new to it).
I got a go-ahead on the 2nd day itself!
Onboarding and training resources
After the 3-day trial period, the person assessing performance provides feedback to HR, and if one performs reasonably well, a go-ahead is given to induct the candidate as an internee (or full-term employee, depending upon the vacancy applied for).
The onboarding process was smooth (special thanks to Akhila), and I was immediately able to connect with my team. The first few weeks were a steep learning curve, but the supportive co-workers made the transition much easier.
I was given a link to the onboarding kit with details on must-have tools and apps like Trackabi (to track my daily work), Whatsapp communication, email communication, company policies, team meetings, and more.
I was also given a link to Deepak's training videos on how to make Pearl Lemon more autonomous and client relationship management.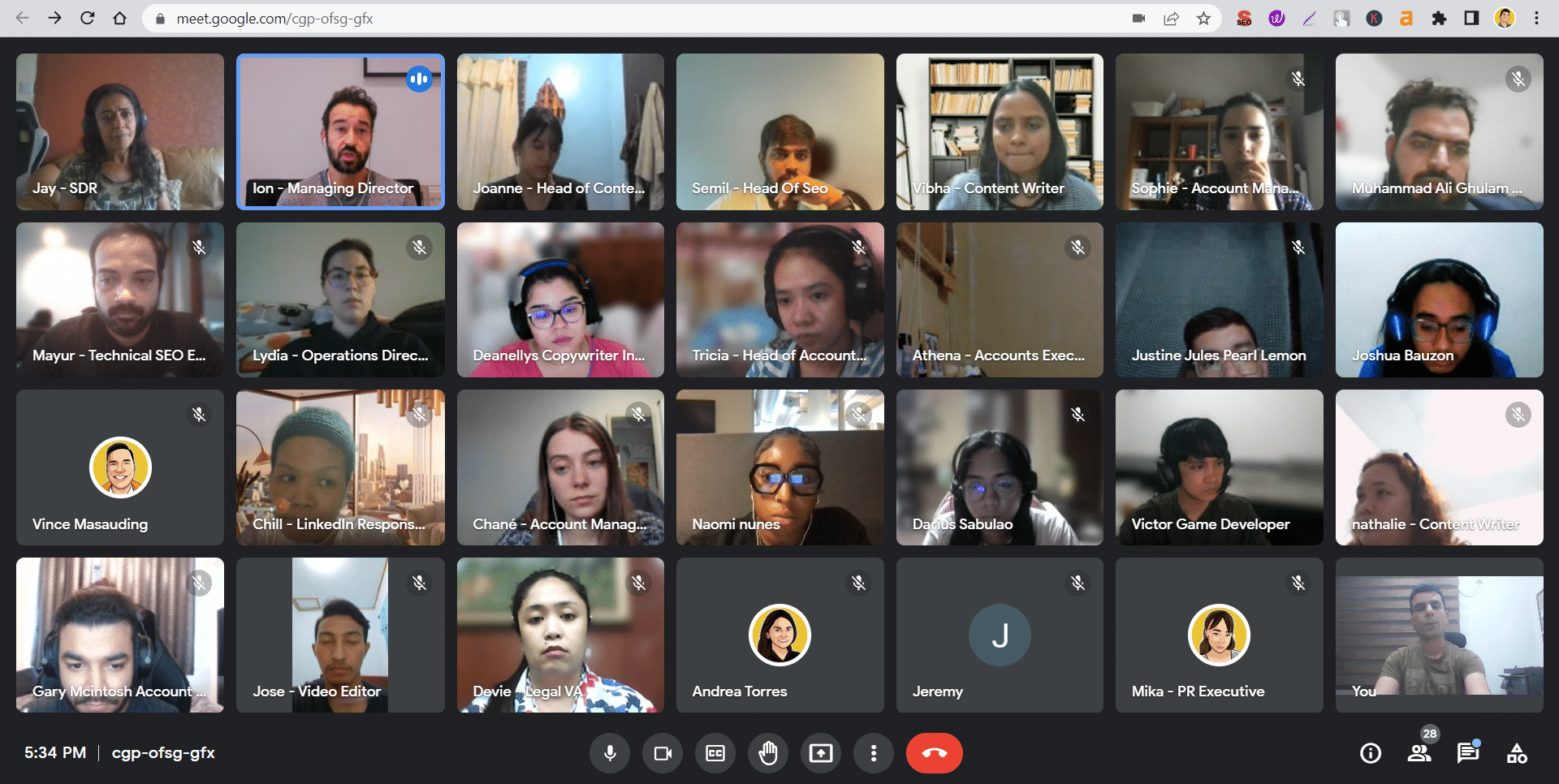 There is an awesome EOW meeting on Friday evenings that everybody looks forward to. All teams from Pearl Lemon participate and Deepak along with other management team members provides insight on the highlights of the week, and what's going on with the company.
My Primary Responsibilities
As an SEO executive, my main responsibilities included conducting keyword research, writing meta titles and descriptions, optimizing website content, working on CRO, and analyzing data to improve search engine rankings. The team provided clear instructions and training videos, as well as the use of Looms to help me understand the tasks at hand.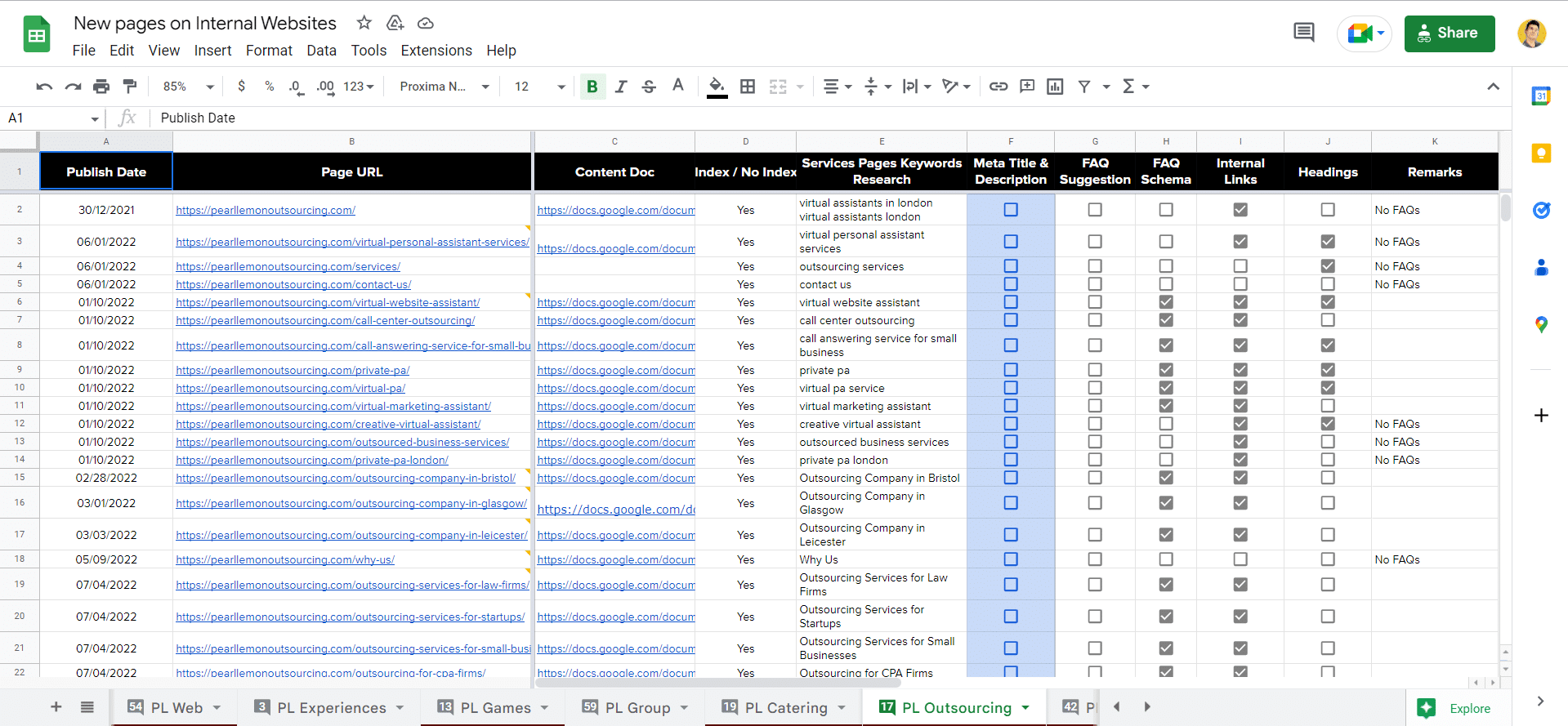 I am thankful to Shreyas whom I was substituting as an outgoing SEO executive for the seamless handover. He was leaving Pearl Lemon after a stint of over a year (i guess) with the company to pursue his higher studies in the U.K., and look forward to working with him again.
I also got to work with Mayur who has a rich experience of almost 15+ years in the SEO field, and Kamran who as a consultant brings a wealth of ideas on how to streamline ongoing processes and execute new ideas for improvement.
From the beginning, my main responsibility was to work on SEO tasks. I quickly learned the ins and outs of SEO and was able to apply my knowledge to other areas of digital marketing.
As I gained more experience and confidence, I was allowed to move on to other areas related to content writing. This included writing service pages, blog posts, and commercial content, and optimizing on-page elements to improve website visibility.
I would like to express my appreciation for Joanne, the head of the content team at Pearl Lemon. She is an expert in her field and always goes above and beyond to provide guidance and support to the team.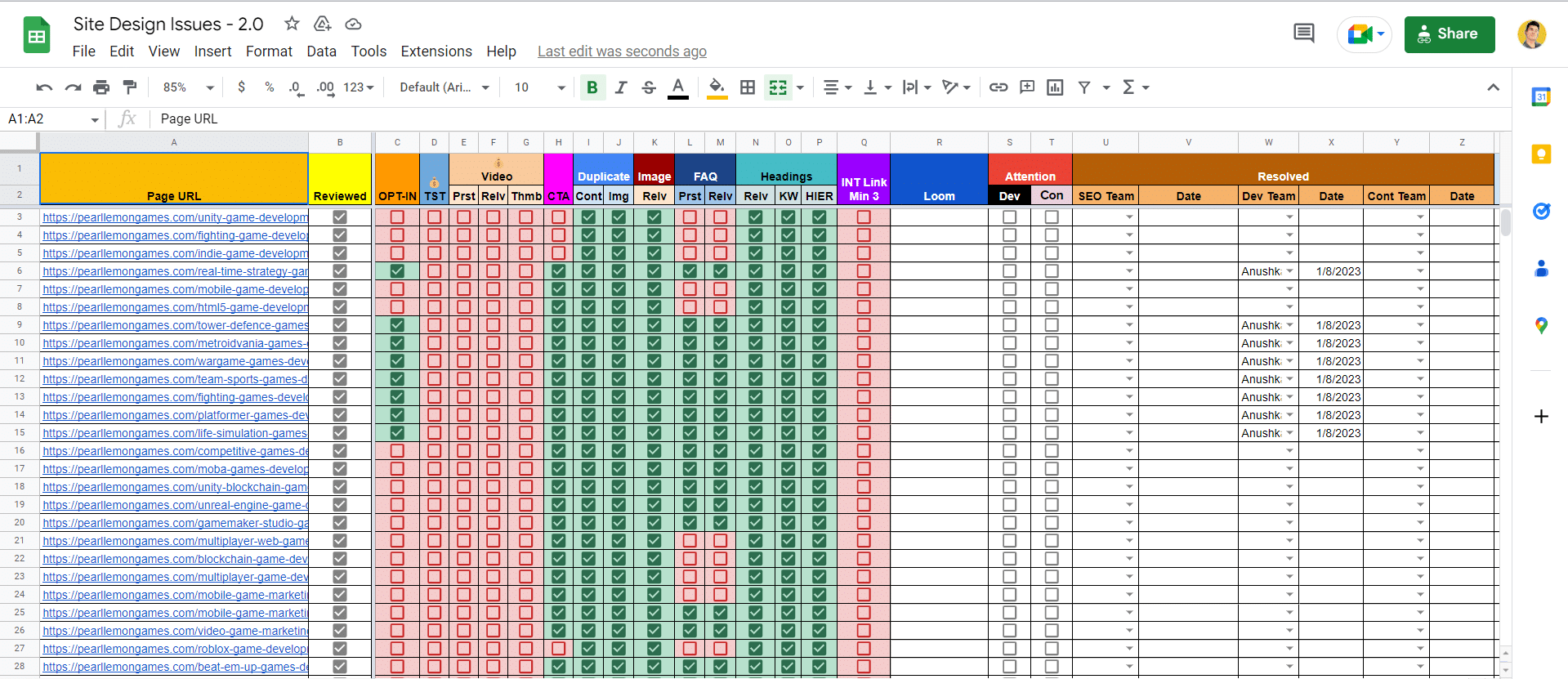 In addition to content writing, I also had the opportunity to work on improving website designs, removing flaws on internal websites, and creating a more user-friendly experience for visitors. This was a challenging task, but it allowed me to improve my design skills and learn more about website development.
I also want to extend my appreciation to Kaushal, the head of the web design team at Pearl Lemon. He is patient and always willing to take the time to explain things in a way that is easy to understand, which has been a great help to me.
Lastly, I was also involved in creating the first e-commerce Shopify store for the company. This was a great opportunity to learn about e-commerce and digital marketing strategies. It was a challenging but rewarding experience that allowed me to develop my skills in a different area of digital marketing.
What I Love About Pearl Lemon
One of the things I appreciate most about Pearl Lemon is the approach to ensuring that every team member is heard and acknowledged. The global team is made up of individuals from all over the world, with diverse backgrounds and experiences, and this diversity is celebrated and leveraged to come up with creative solutions.
An Opportunity To Explore Other Areas Of Interest
Pearl Lemon's founder, Deepak, encourages employees to work in areas beyond their job description and allows them to explore other areas of interest. He understands that each employee has unique skills and interests, and he encourages them to use those skills to benefit the company and improve their growth. This approach has allowed me to explore other areas of digital marketing and gain a deeper understanding of the industry as a whole.
For instance, I started as an SEO Executive but was given opportunities to work on content writing, website design, and even e-commerce store creation. This allowed me to develop a diverse set of skills and gain a well-rounded understanding of the digital marketing industry.
Deepak's approach to management also encourages collaboration and cross-functional teams, which allows team members to learn from each other and bring fresh perspectives to projects. His leadership style and approach to management have created a positive and supportive work environment that allows employees to grow and succeed.
I was truly impressed by the supportive management team, particularly Ion our Managing Director, and Lydia our Operations Director. They made sure that I felt welcomed and that my transition into the company was as smooth as possible.
Overall, Pearl Lemon's approach to employee development has been a valuable learning experience. The supportive team and diverse range of tasks allowed me to learn and grow in my role as an SEO executive.
I am grateful for the opportunity to work with such a talented and knowledgeable team and founder, and I look forward to continuing my journey at Pearl Lemon!