About Rowan Fortuin's Experience!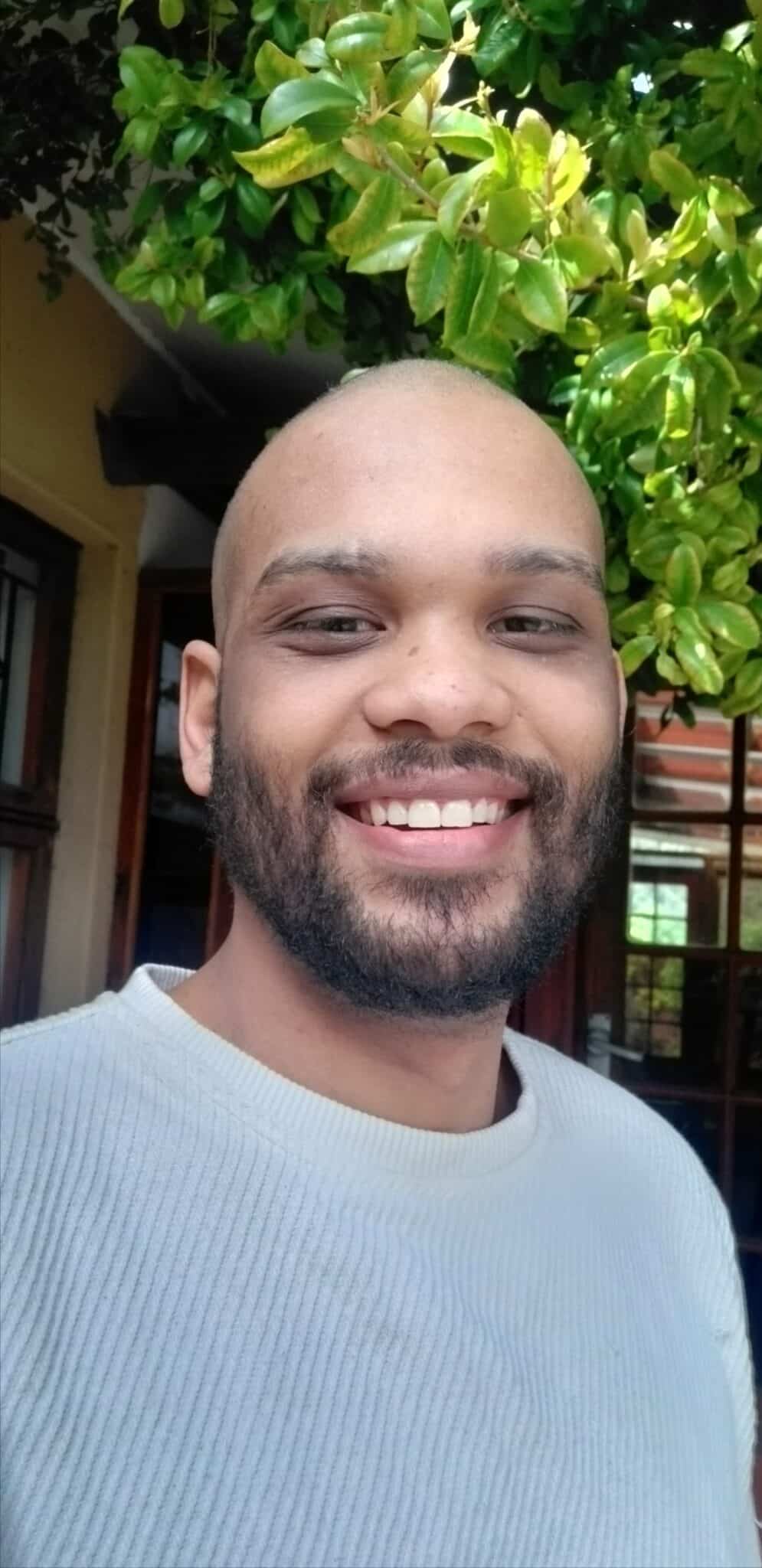 Orientation
I think it would be apt to begin with onboarding. I'm happy to say that the Pearl Lemon process of induction is both well made and provides a new employee with a decent understanding of the overall company processes. My colleagues were very helpful in showing me the ropes, and the HR department answered questions and gave insights whenever they were needed.
The Pearl Lemon toolkit provides a range of topics which a new person needs to learn. For example setting up your emails, your away message, your whatsapp business account, using trackabi, and also various essential extensions such as loom and lemapp. After the induction process (via the onboarding toolkit) was complete, I found that I had a decent overview of the overall company structure, as well as the various processes. And to date I have completed the overall onboarding toolkit.
The legal department's onboarding toolkit was similarly helpful, as this gave me grounding on how I could go about dealing with the specific tasks that the legal department requires, as well as the overall agenda of the legal department. There are a range of websites I needed to get on board with, such as rocket lawyer and UK companies house, and I also needed to get used to working within the team's google drive folder which had a bunch of client data inside.
Initial Work
I like to describe my initial experience with the company as 'hitting the ground running.' Within the first week I was exposed to client work, which included diving into specific legal topics that I was not immediately familiar with. Furthermore, there were specific work processes which were important and that I was not immediately familiar with. For example, updating one's KPI, bragging points, and innovation stuff. Learning why these various tasks were essential starting out, so I'm happy to say that I've learnt how to use them. My trick was to ask for help and explanations from various colleagues such as Catherine or Taryn.
Aside from company specific tasks, I also quickly had to learn to use extensions such as Loom and Lemapp. Loom is a type of video recording software which allows you to record videos. I found that I had to learn to use it quite soon for our department's purposes since sometimes client's require video guidelines. Another essential tool I haven't mentioned yet is whereby – it's a conference tool similar to zoom – however the user has the ability to easily share their screen and show their work to their colleagues.

While I can't speak to the overall objectives of the company, since there are quite a robust range of business areas that the company works within, the legal department specifically deals with issues that I have an interest in. While the legal areas range from property law to immigration law, there are a large amount of contract law specific topics that we deal with. I'm happy to say that commercial law was one of my areas of focus during my masters, so learning about UK company law wasn't difficult for me given my initial interest. There is also the added fact that UK law – being a common law based system – is similar to South Africa law, since South Africa also uses common law within its own jurisdiction. Overall, I think that one's initial experiences at the company will be unique depending on the specific person's background and experiences, but for me it was quite good.

Loom videos created so far: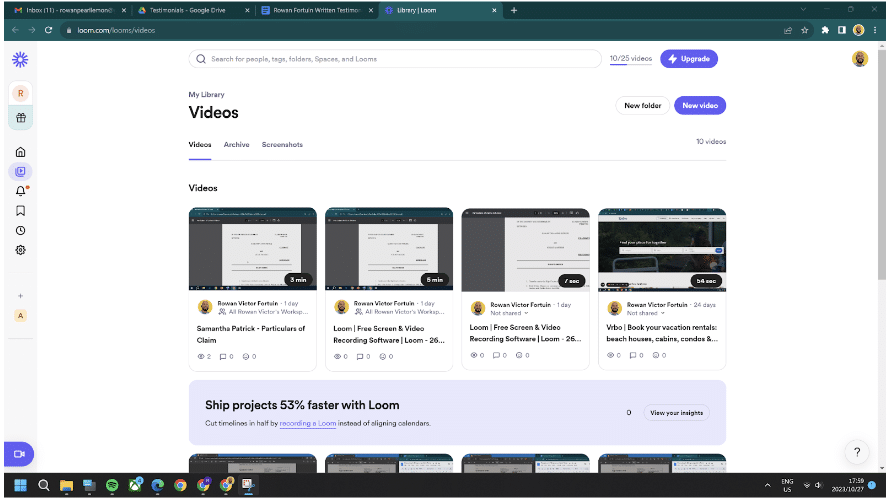 Using google drive, some folders being created by me: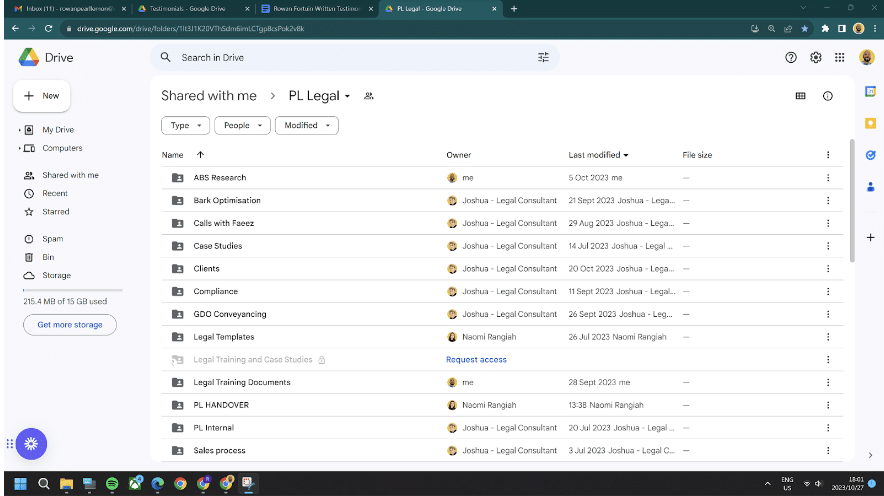 Legal letters written: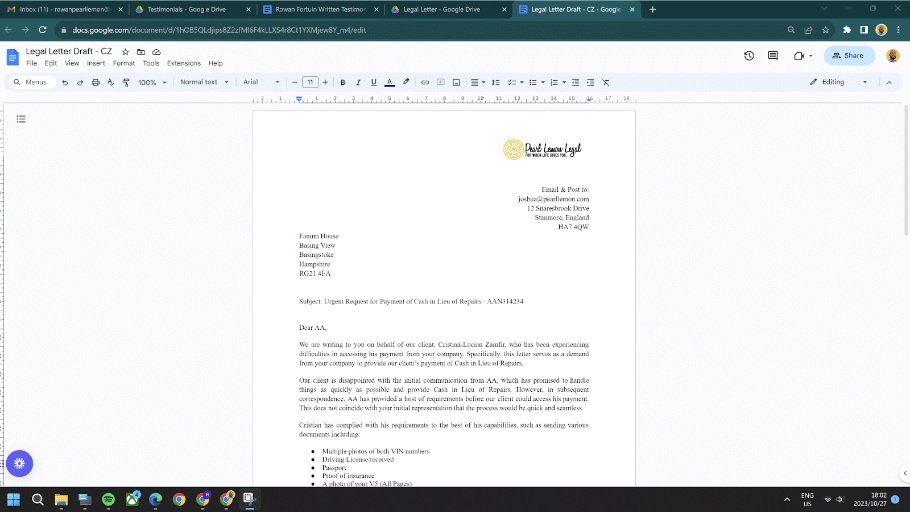 My training
Pearl lemon provides an immense amount of support and training tools. These are mainly contained within the company's instructional videos. At the moment of writing, I am knee-deep into communication videos – but there are also autonomy videos and specific instructional video playlists available. Overall its hours of training content provided, for free. In communications training I've learnt quite a bit, and I'm supplementing my learning by reading Deepak's recommended book called 'How to win friends and influence people.' Since I have a client-facing component to my job, learning these tools is essential for me.
Pearl Lemon is very growth focused. In this sense it requires both that its employees contribute to the company's growth, as well as their own personal growth. This mix of individual and collective value provides a unique experience. I feel as though, while I'm working on my own development – I can also provide ideas and areas of growth to the company. At my current point, I am well positioned to grow as a legal researcher, as well as provide growth to company objectives. For example, Joshua has thought of an idea to expand the legal department's business, and despite being new to the job, I am already able to contribute to the legal department's long term objectives. These will be touched on more below.
Where I am in the communications videos: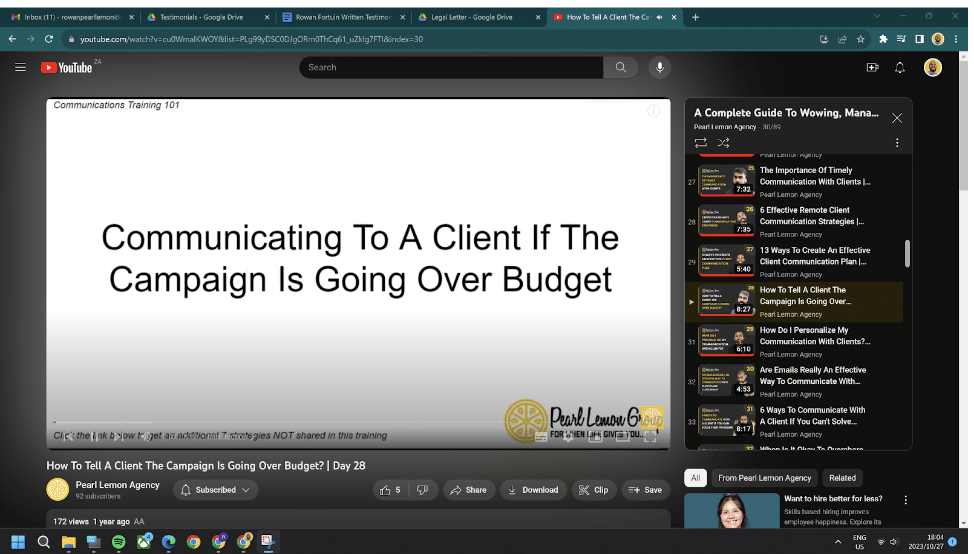 Research
I've learnt quite a bit about UK law, including lease agreements, civil procedure, and contract law specific rules. Every day I learn something new or interesting, and this only expands my legal understanding of the UK legal system. Legal letter writing was something that I was quite new to, however through trial and error, learning from my colleagues, and asking the right questions, I've created letters that were client ready within required time frames.
Most of the time, our work is iterative and collaborative. When drafting, researching, or doing ad hoc tasks, it was essential that I keep open communication with Naomi and Joshua. This helped me avoid overlapping research tasks, and expanding the amount of work we could do in a day. Communication videos have assisted greatly not only when working with clients, but also working with colleagues.
I also learnt to take initiative more and provide ideas on how we could expand and improve our department's process. Our research on notion is coming along nicely, and our client list and research tasks keep growing. At the moment we have completed a client list, various legal training documents, and ABS research (which is an overall long term objective.)
Client list: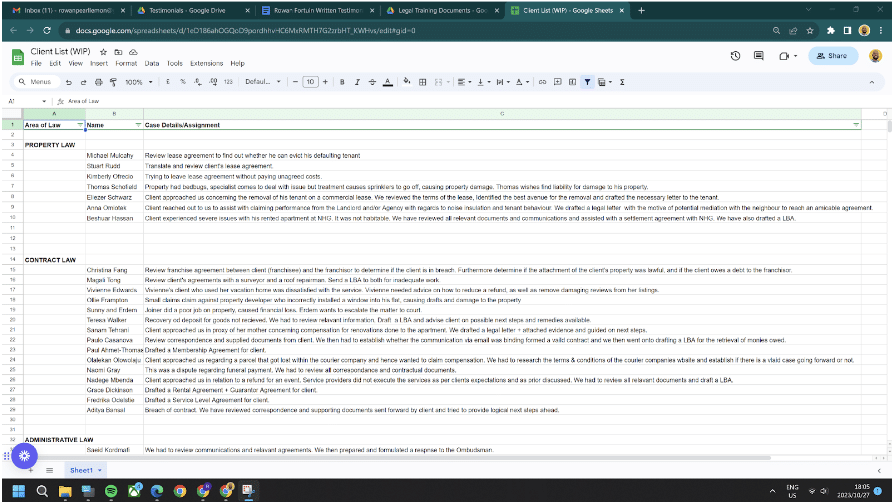 Legal Training document: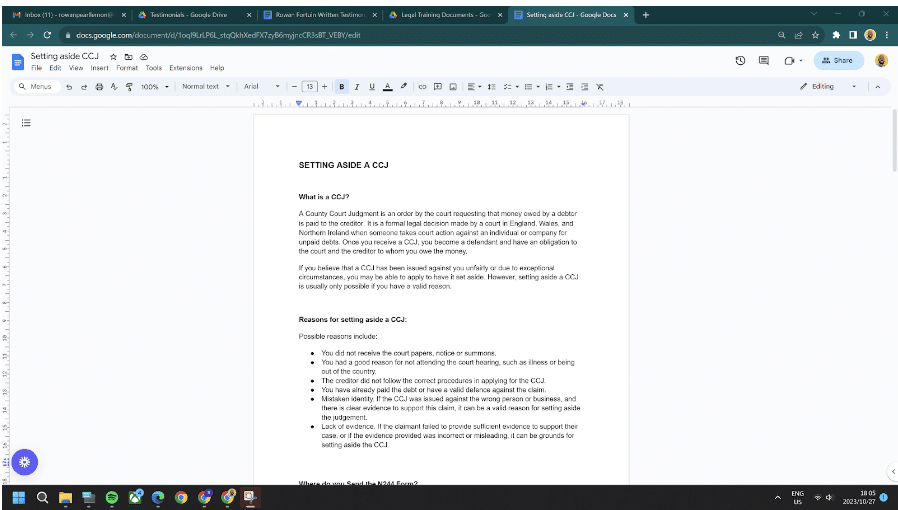 ABS research: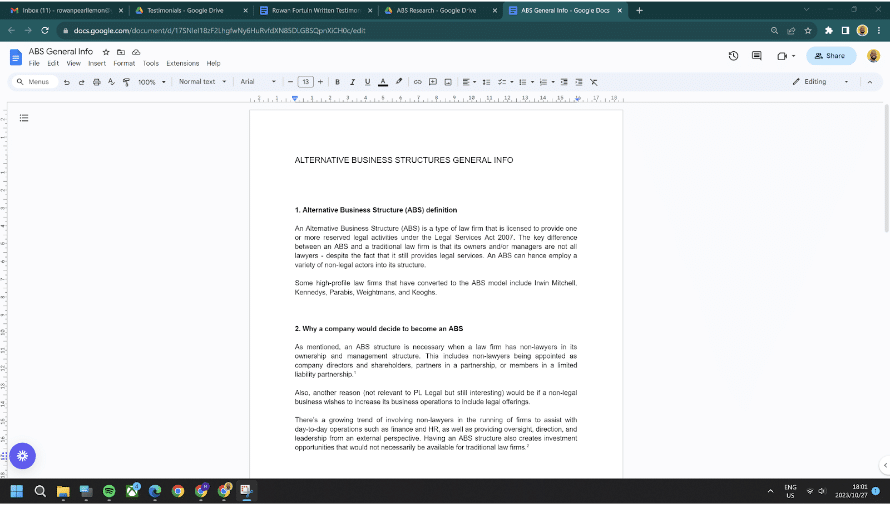 Notion work: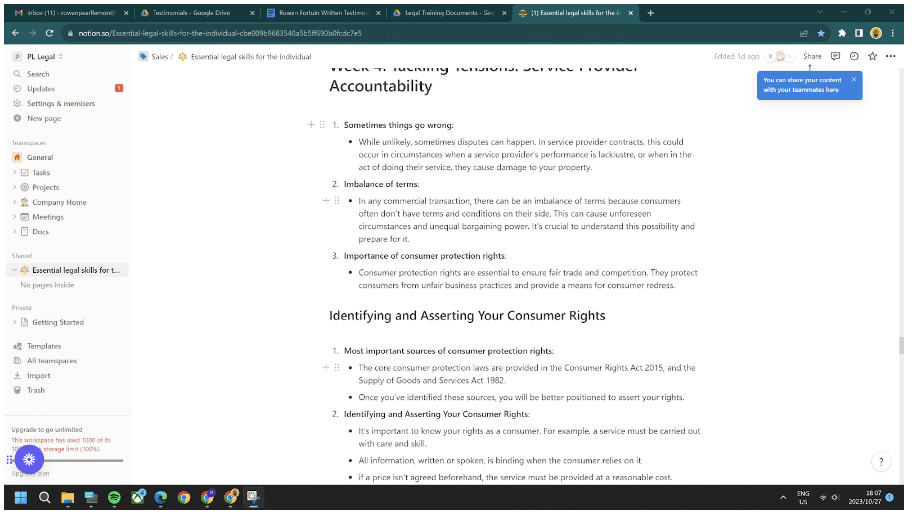 Final Remarks
I think it's important to consider whether a company's vision aligns with your own. I think that Pearl Lemon's growth focused attitude will help drive success and achieve goals in both the short and long term. Furthermore, working within the legal department and dealing with challenging legal tasks has been mentally stimulating in the best way possible. There's so much to learn and improve, and I'm happy to be a part of it. I hope the showings of my work were adequate thus for, there's always room for improvement!