About Vibha's Experience!
Namaste, everyone (that's how we greet people in India). I am writing this on my 2nd monthiversary with Pearl Lemon, and there could be no better time to pause, take a look at my journey and appreciate all the support I got from the team.
Now, I find it interesting how I landed working with such a fantastic team when I least expected it.
It all started back in January 2022. It was when I was looking for a full-time job as a content writer (before that, I was freelancing and working as an intern). While on my routine job hunt quest, I learned about Pearl Lemon. I looked for its review to learn more about the company and its work culture, and I instantly knew this was it!
I went for it and applied. After a few days, on March 14, 2022, I got a text from Akhila (from the HR team). She told me to fill out a form as the first step.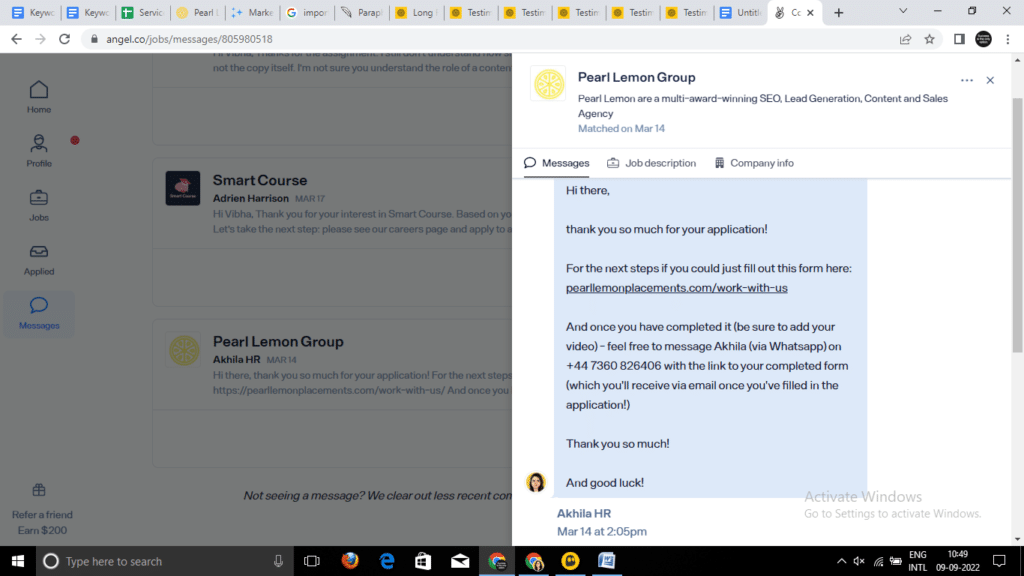 I filled out the form. It was nothing technical but involved questions about my thoughts about working in Pearl Lemon. It also had attachments that showcased the company culture and employee reviews! Overall, it was fun to do! Once I completed it, I updated Akhila.
Unfortunately, I never heard back, so I assumed that I probably couldn't make it. I continued to freelance, which was when I was researching some content topics. I saw Pearl Lemon's page in the results and went on my flashback trip, lol! I was like, why didn't I try to track what happened to my application or check with Akhila all this time, especially when I wanted to get in so bad?
So I decided to reconnect with her in June 2022.
Luckily, she replied to me the very next day. She sent me a set of questions and asked me to answer them via voice note.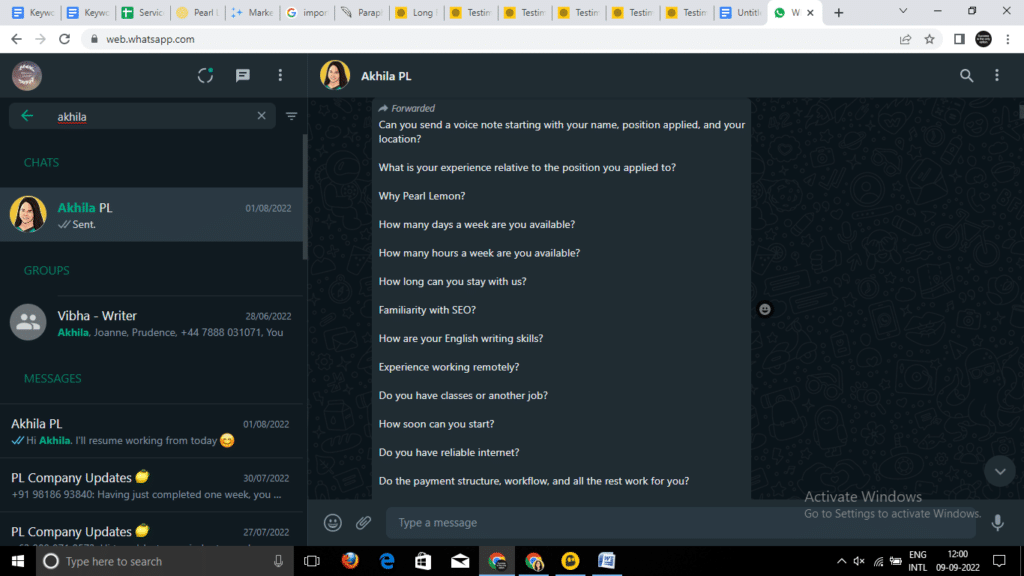 I did as asked and after two days Akhila told me I'd have a three days trial. My trial also started on a funny note. So, she added me to a group where we all exchanged hellos, and then Lokesh (SEO Executive) shared an excel sheet with me and a Loom video explaining it.
I went blank when I saw the sheet and knew I wouldn't be able to clear my trial. The reason, you might be wondering?
I didn't understand anything from the sheet or the loom video. I was anxious and bewildered at the entire situation. While trying to figure out things, I got another text from Kamran (Head of SEO audits).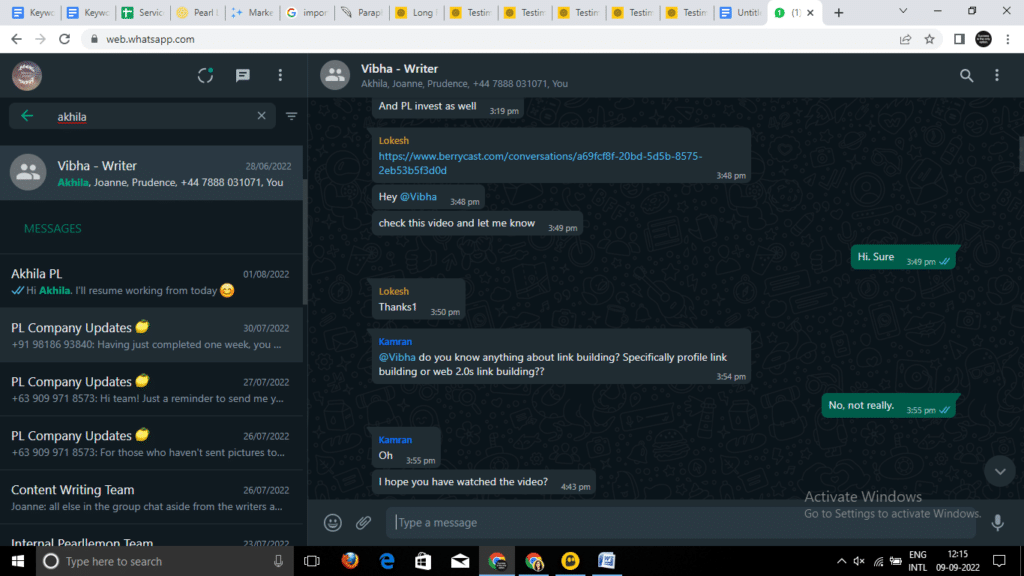 I texted Akhila and later figured that she mistakenly added me to the SEO group instead of Content writer, and then I felt relieved, lol!
I finally started my trial under Joanne (Content Head) and Prudence (Content Writer). It was my second interaction with the team. I enjoyed my trial period, which was opposite to how trial periods are: INTIMIDATING!
However, Joanne and Prudence always checked on me, and their feedback helped me immensely. At last, my trial period was over, and it was time for the "final verdict" (drum rolls), and guess what….
I made it!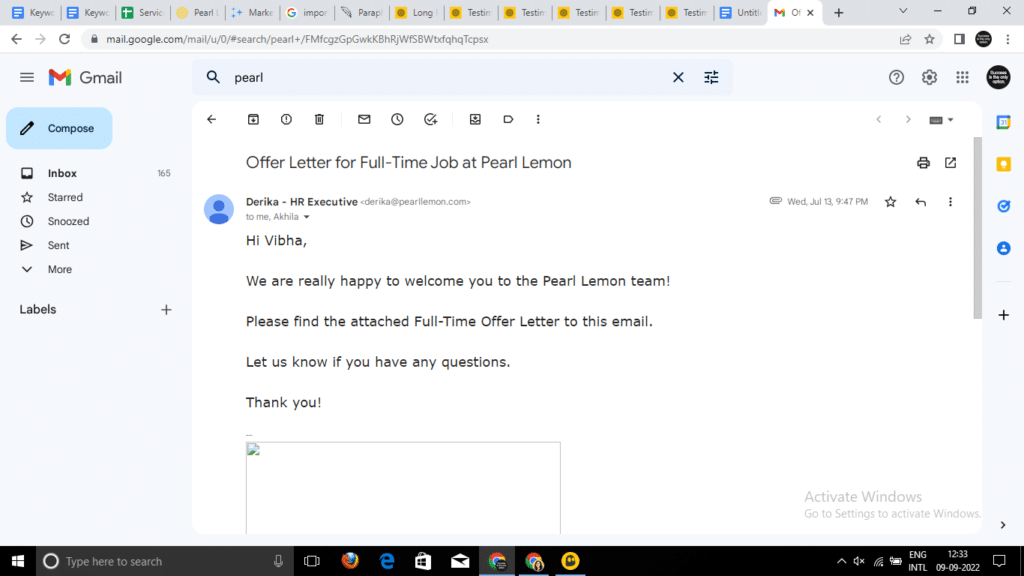 Month 1 was a complete roller-coaster ride for me (in a good sense). I had a lot to cover and a lot to learn. It was the time when my interaction broadened from the content writing team to the entire Pearl Lemon fam.
I went through training modules and worked on service pages (something I had never worked on before), so it was like exploring my creative side.
In my first weekly meeting with everyone, I got to connect with Dee himself (Founder of Pearl Lemon), where he briefed us about the company, followed by updates from all the departments. It was then that I got to know about all our departments and businesses.
By now, I know the company's background and details and have adapted to the workflow. The productivity tips and training module has helped me a lot. As an introvert, I struggled to express myself or participate in meetings effectively. But now, things are much better. I eagerly wait for meetings, and interactions are no more daunting for me. (I wouldn't say I have suddenly become a party-lover, but I don't avoid interacting now).
Dee's communication tips in training have helped a lot, and if you are someone who enjoys learning and challenging their limits, Pearl Lemon is the place!
My two months have been great here. So, for now, I will keep collecting all my experiences and share them with you guys again on my 1st anniversary with the team!!
Till then take care and don't stop learning!