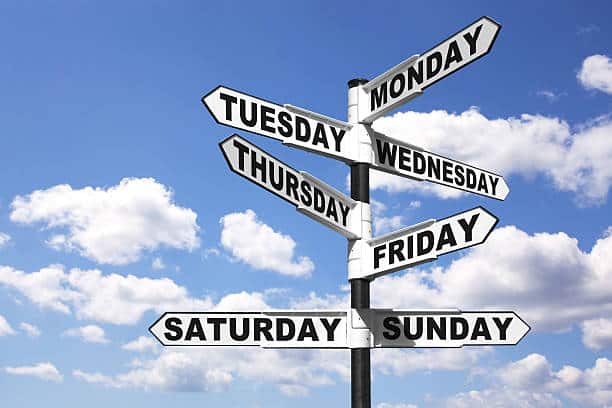 Heather here. Today marks the end of my first full week partnering at Pearl Lemon!
It's been a hurricane of action. Firstly, I returned to my job as an Early Years Professional for the first time since English schools shut their doors in March. My 8 year-old son also went back to full-time school (small mercies) and all his extra curricular activities resumed as well!
All these factors definitely made me rethink how I had previously tackled my PL workload. I've become largely nocturnal, while also brushing up on my phone-keyboard skills so I can work while on the train! Fortunately, evenings are quieter for me anyway. 
I started out the week by continuing to get to grips with Pearl Lemon's internal systems and modus operandi. This meant starting to consistently use Clockify, our timekeeping app, as well familiarizing myself with our Content Writer spreadsheets and general admin processes. 
My first skyscraper article – a 5k word piece about Sales Training – was published on Pearl Lemon! This was definitely a highlight for me and a major source of motivation. Tannishtha, one of our Content writers and queen of long-form content, made some very helpful editing suggestions to bring the article up to snuff, and the web team very tactfully adjusted my sometimes questionable formatting. 
The end product, while perhaps not my most riveting work, is definitely the highlight of my week!
This week also saw me take on the chocolate box of media opportunity that is HARO (Help A Reporter Out). I spent the majority of Tuesday researching the ins and outs of how it worked and how to write a winning pitch. 
I had a call with Paula and Rachael on the PlantSumo team to get us all on the page about HARO pitches. It was really nice speaking with them and hearing about how they were going to use HARO to get PlantSumo media mentions.
I even got to experience Rachael in action when she interviewed me as a trial run for the PlantSumo podcast! I find being on camera an awkward experience at the best of times, but Rachael is such an excellent host that she put me instantly at ease. I look forward to watching her continue to dazzle!
I aimed to turn out seven to ten HARO pitches a day, and managed to hit the lower end of that target scale most of the time. However, the way I was going about it was eating into my writing time. 
The two most challenging aspects of pitching HARO for Pearl Lemon for me were: 
Researching and choosing the most impactful answers to technical questions.

Knowing exactly how to format a pitch correctly.
 I was lucky enough to have a call with Deepak, who was kind enough to do a live demo of his process for answering HARO queries. 
Seeing how he streamlines his responses and also his research process and format was very helpful. I'm confident that I will be able to produce a faster turnaround HARO-wise next week!
This week, I also got to grips with editing meta-data descriptions. While this was fairly straightforward, it was a unique learning experience and I thoroughly enjoyed it. It's one of those quick, satisfying tasks that you can check off while en route elsewhere and deliver fast results on!
Although working on HARO did take up the bulk of my time this week, I did manage to beef up the word count on three urgent client posts forwarded by Tannishtha that were due this weekend. They were very technical articles, each short about five hundred words. 
Padding the word count turned out to be simple enough and it felt great to contribute towards our content writing team's workload!
I also enjoyed getting to know Federica, our Head of Internal Growth, this week as we managed to book a call. Hearing her explain her role at Pearl Lemon as well as her background and vast knowledge of languages was fascinating. 
She patiently answered my many questions regarding Pearl Lemon company structure and methodology, and moving forward from our conversation I feel more confident in asking her for advice when needed. 
Speaking of calls, I also had a meeting with Lydia, who seems to have a finger in pretty much every pie around here and is a wellspring of information and advice! She and I are going to be splitting HARO outreach for Pearl Lemon – which is a relief as, while I can answer the more general queries, I sometimes struggle with the highly technical ones.
 Lydia is well-versed in such matters and is better equipped to handle them then I am. Thankfully, she has already created a spreadsheet for us to update regularly so we don't end up cross-posting!
And now it's Friday night, and I'm sitting on my laptop checking out the Trello board I finally got around to logging on to. Trello is basically a virtual pinboard where we post to-do notes vs completed tasks. My goal is that by Monday I'll have a clear list of objectives which will help me prioritize my workload. 
The more time I get to dedicate to actual writing, whether it's for clients or for Pearl Lemon, the happier I'll be!