Hello everyone,
My name is Monica, I just completed my first-week trial as an partner for Plant Sumo – a new plant-based delivery and preparation service that will be launching early next month, so this is officially my first blog post! I was so excited when hired as a Social Media Manager to plan, implement, manage and monitor the overall social media strategy for Plant Sumo that is in line with the company's marketing strategy. I guess you're like 'okay, why were you so excited?' Well, I am Nigerian, lived, schooled and worked here my entire life. I didn't know I could find a remote job online outside my country, so yes, that is the reason I was and still excited. .
On the 31st of August 2020, my 7-days trial started. I was added to a job trial WhatsApp group by Federica – HR Success Manager who Interviewed me for the role. I got introduced to Deepak and Salim who are co-founders of Plant Sumo who are both super calm and laid back, and Lydia – Head of Internal Growth.
I was immediately assigned two tasks, first, to create a social media strategy for Plant Sumo and submit on my first day. I was excited about this because developing a social media strategy was my forte and as a healthy food lover, doing one for a food service company made my day.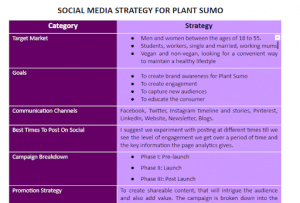 My second task was to work with Sahil, the social media Graphic Designer and come up with content for Plant Sumo launch. I had so much fun because Sahil was so good at interpreting my ideas. It is not as easy as it sounds; we worked on different concepts trying to find the right design templates that were in line with the brand voice.

I also had support from Paula; her inputs were valid. It was also nice meeting the rest of the Plant Sumo team members when we had our first group brainstorm/introductory meeting on whereby.com. I felt at home.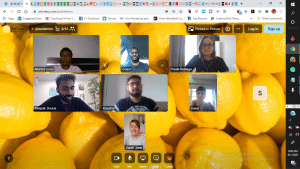 Overall, working with PlantSumo has been a learning process for me. I can gladly say my first week was brain tasking (so many things to catch up on) and exciting.
I am looking forward to starting my one month trial. I hope you will follow me on this journey. More blog posts coming up next week. See you soon.
Ciao!
Monica – Plant Sumo Social Media Manager