Heather here 🙂
There are exactly 61 sleeps, 4 hours, 23 minutes and 16 seconds to December 25th!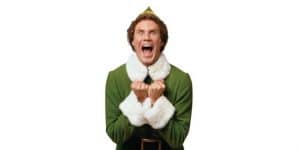 That's right. I'm counting.
If there was ever a year where it became permissible to deck the halls, crack open the Baileys and stuff a mince pie in one's mouth before Dec 1st, it's 2020. In fact, I'm of the belief that even Mary Berry (of Bake-Off fame) herself would be hard-pressed to sugar coat the sour taste this year's left in all our mouths. And while there's always a bright side to look at, simple joys like festive candles and fairy lights and cringe-worthy Netflix specials are always a plus!
In case you're wondering if I've put my tree up, the answer is 'no'. This in no way stems from any insistence on conforming to societal norms. It's literally just that my German husband turns into a lumberjack every December and insists on getting a 'real tree'. Ironically, it always ends up being yours truly getting said 'real tree', and sawing off the stump so it can drink, and balancing it precariously in its stand…and hoovering up the pine needles…
Oh well. 'Tis the season and all that.
It's been a much better week in terms of productivity. First off, I GOT A NEW LAPTOP (I know Caps are 'shouty' – I AM shouting)!
The ability to simply tune into a Zoom call, scroll through emails, copy-paste into G-suite and run Ahrefs…these are all fairly straight-forward processes. They becoming excruciating when you try and do them on a laptop with 20 GBs of RAM, though. Once I realized that my S-7 Galaxy Edge was outperforming my Toshiba, I knew it was time for a change (Deepak, if you're reading this, thanks for the advice and the push)!
Anyhow, thanks to my new baby, I've managed to pick up my feet a bit quicker this week. Here are some of the things I've been catching up on:
PR
I've been working on improving my processes this week – with some success! I now have writing case studies for tool testimonials down to a 15-minute science. While this may not sound ground-breaking, if you consider the fact I had about 8 pending testimonials to crank out, plus more coming in every day, it makes a massive difference!
We've been making a push on link building for PlantSumo, Serpwizz, and Resumecats this week. It's been fun pitching HARO for these, as I can pitch to different queries than usual and improve my knowledge of the brand in the process.
Client PR is also taking off. Dr Watson got their first media mention this week (Harry, well done), plus 3 upcoming interview features in Authority magazine. We've also got some big brands putting out feelers, so we're working on building a solid pitch deck – fingers crossed!
Deepak's researching new and innovative link building methods every day! His drive and vision is so amazing and it just goes to show that anything is possible if you work hard enough. I just hope to be able to keep up – but fear not! Help is on the horizon! Which brings me to my next project…
Trial Week
This week, I assisted Federica and Akhila with assigning tasks to three people applying for internal roles with Pearl Lemon. While I'd worked alongside Noah with some content writing trial tasks before, this was my first time creating new tasks for PR exclusively.
Luckily, there's a lot to do – and many hands make light work! Two of the people on trial are currently doing an amazing job on formatting our next (highly overdue) expert round-up post. Hopefully, we'll get it done by the end of next week. We'd better – I have a PR round-up and a Plant Sumo round-up to crack on with!
Highlights:
Finally seeing results for our outreach campaign for Dr Watson has definitely been amazing! Also, the opportunity to pitch our digital PR services to a potentially major client is an absolute buzz!
Challenges:
In the Friday meeting, I mentioned that next week I want to improve at adding tasks directly to my Trello. Otherwise, they end up getting buried in my Whatsapp or Gmail and I literally forget that they exist (goldfish brain). This is something I've already started working on and hopefully by next Friday, I can say 'Mission Accomplished'!
Now if you don't mind, I'm off to make that a mere 60 sleeps till Christmas ;)…