So I'm sure you're wondering how the LinkedIn lead generation videos went and… they actually turned out pretty decent!
Here is a screenshot of me in action: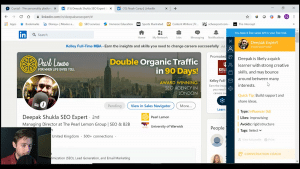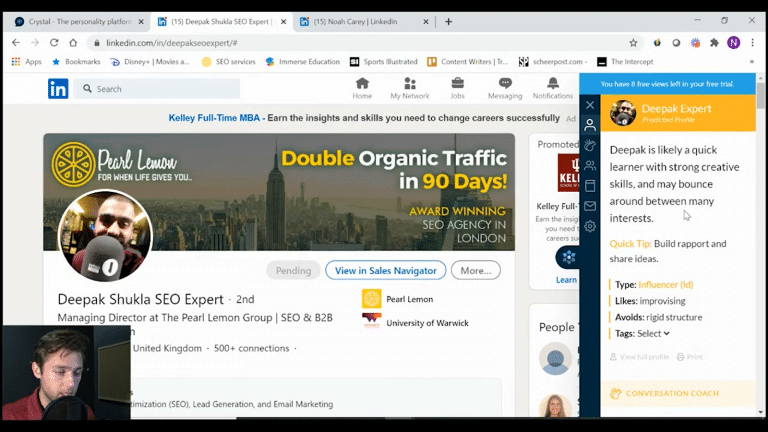 But I'll let you judge for yourself.
Here is my review of LinkedIn Sales Navigator.
And here is my review of Crystal.
There is also an accompanying written review of each over on the Pearl Lemon Leads blog:
This week I've also been working on re-purposing that old In-house SEO guide I wrote awhile back, turning it into a Beginner's Guide to SEO.
See! I told you it would come back! Just had to be a little patient with it.
That seems to be my thing though. Work on a not so great first draft, put it aside for a month, and then turn it into something readable.
But hey, that's writing sometimes. I'm just glad it isn't going to waste!
The opportunity came up when Sam, our new social media manager, told me we had a lot of people asking on LinkedIn if we had a Beginner's guide for SEO. I told her we didn't yet but that I had just the things and BAM! A week later we have one.
I'm actually about to send it into the SEO and content team right… now!
I can't wait to get that bad boy up.
Now with this guide, in addition to some of the other content I have written, I feel like I have some quality work published. Nothing insane, but solid stuff.
I also think I have gotten a grasp on how to write for the internet in terms of style and formatting, and I have a better understanding of topics like SEO and lead generation.
But now, I want to get better at writing blogs with more SEO tactics in mind. Because I typically just start writing, with no real list of keywords or plan for implantation.
Part of that is the stubborn creative writing major aspect of me, causing me to focus more on the writing than SEO.
So I think I need to do more:
Keyword research- to find secondary keywords and get metrics on difficulty and search volume

Study content that is ranking well

Create a list of keywords and make sure I include them enough

Come up with a plan for using headings, images and links
That's kind of my long term goal. My goal this week is to simply learn more about SEO and how to do all of the above, so I can eventually start doing it for real.
I've started by watching a consultation call Dee had with Craig Campbell, a well-recognized SEO expert. Then I'm going to go through Dee's other training and do a lot of Googling.
It's probably well overdue, but better late than never.
Wish me luck!