Hey all! I told you I'd be back a lot sooner this time 🙂
As you know, I've been working on a bunch of new campaigns for some new callers that we brought on board in the last couple weeks. Both of these new callers are going to be starting out making sales for Pearl Lemon itself, so the branding is something that I'm familiar with. The biggest struggle was actually finding free Linkedin accounts to use for the campaigns! With so many running at once, we seem to be having a shortage. Because of this, we have resorted to using our team members' accounts! This has been a great opportunity for me to get in touch with a bunch of other people in the program who I have not had much contact yet, especially as the company grows.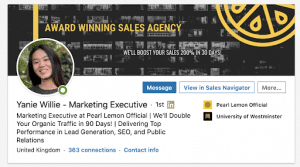 A new Linkedin account we're working with for our new callers!
I've also been continuing to keep our client, Sure Oak, up to date on all the goings one in their campaign. It has actually been picking up traction compared to the beginning of the campaign and I have been able to book far more calls. Although I inquire about the relevance and quality of these leads, I think that I could do a better job of actually keeping track of them (which just now gave me an idea for another spreadsheet, haha!).
Of course, I have been working on Dee's video content creation as well. However, with Fares and now Sanket gone, it is basically just me working on these things and I have to admit I have fallen behind a bit. Although it is Wednesday when I'm writing this, I have not found the time this week to work on this task at all, a fact which I regret. I hope to bring at least one more person on to the video content creation team who can help move things forward a bit.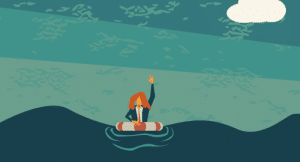 Help, lol
I have also begun building quite a few new courses both in regard to training documents and actual documents to be used daily. These include Archbees, many, many Google Sheets, videos (Looms, etc.), and more. I will get quite a bit more into this in my next post, so get ready! 😉
In personal news, I started having my first exams of the semester this week, so I've been doing quite the balancing act between responsibilities. Although they went well, the pace of the courses are only picking up and making me feel that I can actually put "time management expert" on my resume as a hard skill!!

Grades are up!!
Until next time 🙂