Hey there once again, Pearl Lemon family!
Although these blogs each capture a week in the life of a Pearl Lemon Partner, I sometimes do write them back to back when I occasionally abandon them in favor of more pressing tasks. Perhaps this is why I often feel as though I'm recounting much of the same information to you. Anyway, let's get into the week!

Week 23 at Pearl Lemon started much like the most recent – they've all begun to blur together in the recent weeks. Although Linkedin outreach has been my primary position since day one, it is not surprising to me that I am being given more and more tasks in this area. However, this was the first full week since my Linkedin partner, Phillip, left and I was (and am!) becoming overwhelmed with the sheer number of campaigns going on and the amount of work required for each of them. Not only are internal campaigns multiplying at a rapid rate, client campaigns are absolutely exploding, with 3-4 starting up within the last week – in addition to the established ones!

Just a couple of the campaigns being worked on!
With these new campaigns comes quite a few new pieces of software that must be learned so we can implement them into the campaigns. Icyleads, Octopus CRM, WeConnect, LemPod, and more are included in this list. All Linkedin lead generation tools, they will no doubt be helpful, but a substantial amount of time is required to learn about them and their functionality. Thankfully, Anthony and Yanie have been drafted to help me out on the Linkedin front, with Anthony taking over two cold email campaigns and Yanie trying her hand at the Pear Lemon internal campaign. They've been doing amazing work so far and are super quick learners! Very excited to be continuing to work closely with them 🙂

New group chat for Linkedin with Anthony and Yanie!
Aside from Linkedin work, I've hardly had time for anything else. Deepak is getting a bit anxious about continuing the video content creation task, so I will do my best to help get that off the ground this week again. Unfortunately, we have lost quite a few people from that task and it really is not something that can be done alone by a part time Partner. Additionally, Lydia has taught the team how to upload their own blogs, three of which I've already done this week! So, if there are mistakes, definitely blame me, haha!
On a more personal note, my friend had a murder mystery party on Zoom last weekend, which was quite interesting. At first I wasn't sure how it would go down since Zoom can be quite awkward, but she brought in a company to host it and it actually went well! Everyone had their own character and lines to say and it was hosted in an "around the room" style where everyone had a chance to speak. At the end, we all had to guess who the murder was and no one guessed it! I guess he got away with murder this time. 😉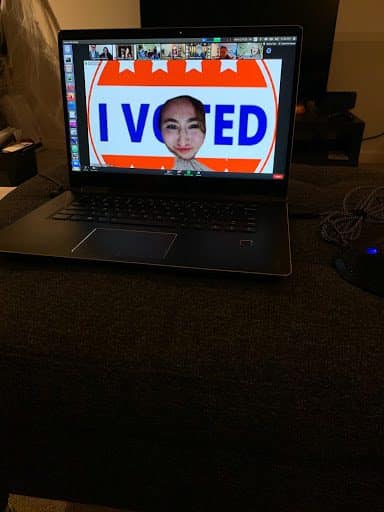 Me at the murder mystery party – I'm the Governor!