Hi again, Pearl Lemon readers!
Can you guess what I'm going to say? Yes, it's been a busy week yet again!!
As you know by now, the last couple of weeks have been insane in regard to the amount of extra work that we have been taking on, from Linkedin lead gen to cold email and more. The two main campaigns that I've been focusing on this week are the Tubellina campaign, a company that provides custom Christmas shows, and Avalara, a company that helps other businesses stay tax compliant. Both of these are Linkedin based, but also require an email campaign. 
To get started with this, I began using findthatlead.com, a site that scrapes emails built from certain criteria to be arranged in an outreach list. This was especially helpful with Tumbellina, because they had quite a targeted list of people they were trying to get in contact with. Thankfully, Isabela was able to help out with the Tumbellina campaign by writing draft copies for the Linkedin messaging, as well as the email funnel. While she did that, I optimized the Linkedin profile – looks like we make a pretty good team! This client is a bit different for me because it will not require me to monitor and report leads, instead, the manager at the company will be taking care of that.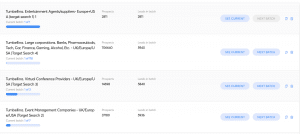 Tumbellina initial target search.
Avalara, the second focus of the week, also required a similar approach from Isabela and I, who tagged teamed again. This client was a bit more difficult because they had quite a few qualifications that needed to be met. Both of these campaigns got launched in the end, however, there was a bit of a scramble at points because there was some confusion on who would manage each account. As of now, they are all running and it seems like smooth sailing ahead!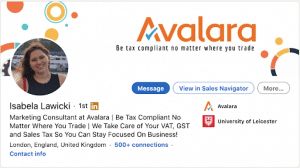 Optimized Linkedin for Alavara!
In addition to these new campaigns, I have, of course, been monitoring and reporting on all the older campaigns that I manage, including Plant Sumo, All Services 4 U, and Kemistri. I've also been assisting Yanie and Anthony continue to gain their foothold in the Linkedin lead gen space. This is a great long term investment, both for the company and for myself, because as they progress they'll be able to take on more and more responsibilities. 
Unfortunately, we lost another editor for the video content creation task, so no new progress has been made over there. I offered the position of editor to my friend, but she was uninterested in the proposition. Federica has offered to look over the other application to Pearl Lemon to see if there are any other interested parties, so I will keep you updated on that. 
Finally, I finished out the week by conducting a Linkedin audit for a Ion's possible client. Although the client is already using a Linkedin lead gen service, he's unsure if he's getting his money's worth, so we took the time to present our competitive advantage.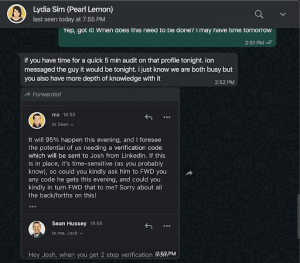 Task request from Ion and Lydia!
Until next week, folks!