Hello,
Another week, another update!
What was new about my week?
Definitely everything related to Pearl Lemon Academy! We're making good progress in terms of the structure of the project.
Last week we had our first team meetings to start brainstorming ideas and we identified a few actionable steps to get out there and see how the market responds to our offer.
This week it was all about implementing these measures and working according to our potential customers' reactions. Unfortunately, no calls have been booked yet so all feedback was given only through messages I have managed via LinkedIn. In the beginning, I was targeting a too wide audience but now that I have adjusted the lead generation campaign, I have more confidence in getting better results from next week.
In a nutshell, we're building a business school that is an alternative e-learning opportunity for writers aiming at finding the right tools and opportunities to upskill their work and therefore make a qualitative change in their career. Our initial programme is structured for over 8 weeks and focused on content writing.
This week I had a call with Sam, one of our partners working on PLA too. We have had a great chat and built the structure of our offer. From there, we'll start building content for our courses. We want our students to have a personalised path at Pearl Lemon Academy and our offer is now focussed on 3 areas: Creative writing, Technical Writing, and Strategy i.e. how to promote your work, find your clientele, and so on.
What did I learn this week?
Every week I always learn a bit of everything. This week in particular, I have learnt from Deepak how to do a client proposal. He asked me and other partners to help him with some research tasks to show the client the target audience we could address with our SEO and Marketing services. My help turned out to be not exactly what he wanted, so he took the opportunity to record training on this topic.
Apart from the usual HR and admin tasks, this week I have had a call with Yanie to discuss her performance review during her first month at Pearl Lemon. This usually is an important moment as together we decide if it makes sense to continue the partnership and I am happy to say we can keep her for long! Akhila was there too since she's learning how to carry these calls out. Today is Saturday and I have just had the same call with her as she is practising on this new role with me and other few people. I can tell she's really enthusiastic about this job position and she's pretty good at it!
One thing that I finally managed to finalise is the HR training course I was building. Here is the introduction: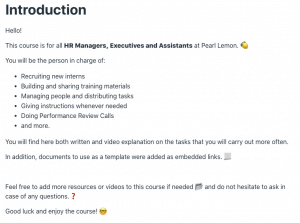 Next week I'll be looking into optimising my work and time management as sometimes I need changing my routine to become more productive. I feel like this is an ongoing task for anyone working remotely and with flexible hours like us. Changes can be good, so it's really important to focus on the benefits of these.
Not much is happening outside of Pearl Lemon apart from the usual. Luckily everything is going well and surprisingly I am quite enjoying these autumn vibes. I used to hate when it was gloomy and foggy but things have changed and I'm happy to be able to appreciate more and more things.
Until my next weekly update.
Ciao,
Federica