Hey Guys!!
Good Morning
This is Akhila, Marketing Executive at Pearl Lemon. So, I'm back here to discuss with you about my 3rd week at Pearl Lemon. I could see my day to day responsibilities increases compared to the last couple of weeks and I was more productive this week(This might be for an increase in my day to day tasks). A bit busy schedule this week and The weather at my place was gloomy.
At the beginning of the week, I had a call with Federica – HR Success Manager at PearlLemon and was discussing each other tasks at the firm. As I am very interested in HR tasks she assigned me a few HR tasks that Increased my productivity and energy at the same time. The new things I learned this week are Posting Job Ads at the job sites, Directory Listings – identified new websites that are yet to be registered by PeralLemon, and 'Product Hunt'(where all the SaaS/New software get listed) alternatives.
Here is my Trello Board of this week, where I organize my tasks and complete them accordingly.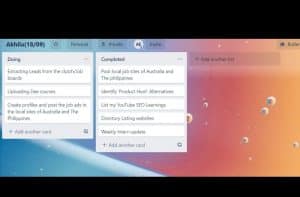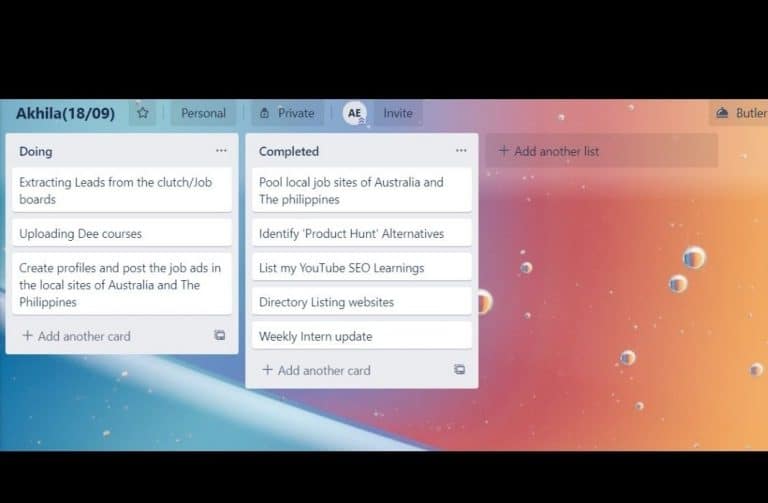 Continuing, extracting leads from the Clutch and job boards this week. I was coordinating with Tenny- Marketing Associate(who assigns me the tasks mostly), Federica – HR Success Manager, and Sam – Marketing Executive in the tasks
Coming to the end of the week. Finally, Friday has come. The most awaited part to me Is the team meet definitely. Usually, In the team meet every week one team member has to be the Incharge of the meet, and This week all of sudden I was the Incharge 😀 Firstly, This was a great opportunity which arrived at me this soon. I enjoyed being in Incharge and was the best experience on the spot I had.
In the end, I could say I am enjoying every task as Pear Lemon and every day is a new experience and a new learning experience. I learned many new things in these 3 weeks where I didn't get to learn in my 3years of graduation. Will be back here next week and share you a lot and Thanks for reading my blog post
Catch you next Friday buddies
Take care and Bye!
-Akhila(Marketing Executive)