Hello everyone! Welcome to my 4th partner blog entry. I hope that you are all well and are as excited as I am about this past week.
This week has been about learning and adapting to new things. I have been assigned to be the social media manager for Plant Sumo. Deepak and Salim's new Plant-Based food delivery service. I would say that this is by far one of the most interesting projects Pearl Lemon has got in their hands. The ethics behind Plant Sumo make the company a thousand times more appealing than many others in the market, at least for me. In Plant-Sumo we are targeting all the people that want to have a healthier lifestyle, but they don't have enough time to cook, meal prep, etc. Therefore, one day when Deepak and Salim were siting in Macdonalds and started talking about the food industry and their own struggles with healthy eating, they came out with Plant Sumo. As I said before I am in charge of the social media management of Plant Sumo, but I'm mainly focused on just the Instagram account. This includes creating a posting plan, creating the posts and writing the captions and finally just checking onto who follows us, likes our posts and who has messaged us. This has been very challenging but very enjoyable at the same time. Given that I am not an English Native speaker, I have got Rachael to check on all my captions, posts, messages, etc if the English is okay and I'm not making up new sentences structures. Working with Rachael has been incredible, we get along pretty well and she is so easy to approach and talk to, that working with her has made this week a 1000 times better than what it could have been like. And now I'm going to run you through the process of how a Plant Sumo Instagram post is made:
Firstly I need to come up with an idea of what I am going to posts- this part of the process does feel pretty arduous most of the time. As a team, we have got a bunch of folders that contain tons of content, including photos of the food, behind the scenes shots and videos of how the process has been like. Having this foulders makes it a bit easier since you just have to work around what you already have, which sometimes is a little bit limiting.
Once I have come up with the idea of what to post, I go over to canva and depending on what I'm posting I have to create a caricature or just put the picture on top of our Plant Sumo Instagram template. This process can be quite a time-consuming task some times, nonetheless, I would say that this is my favourite part of the whole process.
Now that the post has gone through canva is time for the caption. Depending on how tight on time we are this goes through a different process. If we don't have much time and kind of need to post very soon, I am the one who writes the caption and then Rachael proofreads it. However, when we are planning ahead of time and have got some time on our hands, I tell Rachael the main points and what I want her to include on the caption and she writes it out.
And finally posting time baby! We try to post around three different posts every day. Therefore, I just post whatever I and Rachael have created and then check the engagement with it.
As you can see it is quite a long process to post for the Plant Sumo Instagram and we try to have at least three posts per day, which makes it way harder. However, as I said before working with Rachael has made this experience way better and easier than how it could have been without her.
After one week we have earned about ten followers, counting on the fact that we haven't even launched yet! Which means that our content is good. I'll show you how our feed is coming along, and to be honest I love the way it looks way too much.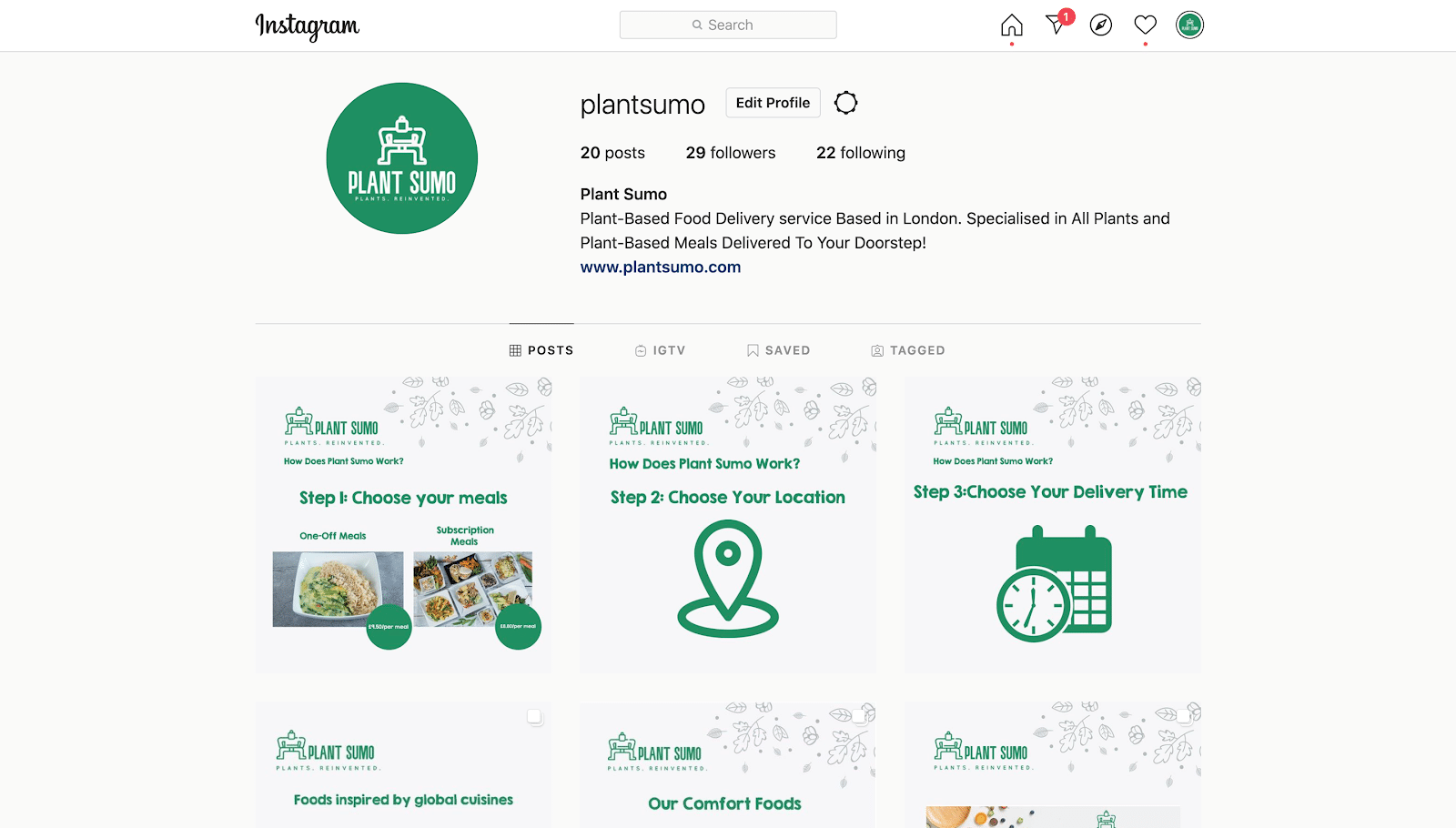 Now in this upcoming week I'll be working with Daniel exceot for Reachael, this will be something new, I will enjoy it, nonetheless I will miss Rachael a lot.
Now I'll just remind all of you to follow our page, it is full of nice tips, information about our selvice and many other things.
I hope to see all of you next week,
Isabela