Ah,
I am realizing how horrible I have gotten about blog updates with the last bit of school term. Time to catch back up and write two a month for the site.
The last month has definitely been hectic for work and home life. Finals are finally out of the way and it is finally time to catch up.
The last couple weeks have been a bit of a blur but feels effective yet. There have been alot of admin style work and repetitive daily tasks. A good hunk of one week was spent helping sort out account reconciliation and ensuring that our books were taken care of.
Recently I have also taken up a sales support role as well. With this means I am set out to ensure the sales team has whatever they may need to execute their tasks. This means ensuring we have proposals made and ready to go and any other support documents to help them out on calls.
Additionally I have also taken up ensuring that invoicing is set for any client and internal team member.
I have been able to get back to some writing as well. This gives me a goal to clear up trello and get back to writing for Kemistri. I also have gotten back to writing page content for the websites now that they have merged. This means some page content and building out additional FAQs and adjusting any copy as needed.
Now that things are able to be just Pearl Lemon focused for about a month, I can also get back to focusing on improving and mapping out our SEO'd videos on Youtube and making sure each public video is checked off.
My biggest item learned recently has been take time off when needed. Or maybe not full breaks but rather ensure that I can focus on classwork and things in life I can't put on hold but have a habit of doing so simply because I don't want to do it.
Trello for now is beyond backed up with three days being dedicated to finals. So for now, this will be a very short post and then I can get back to a rhythm of ensuring that there is more depth as I will be able to remember much more 🙂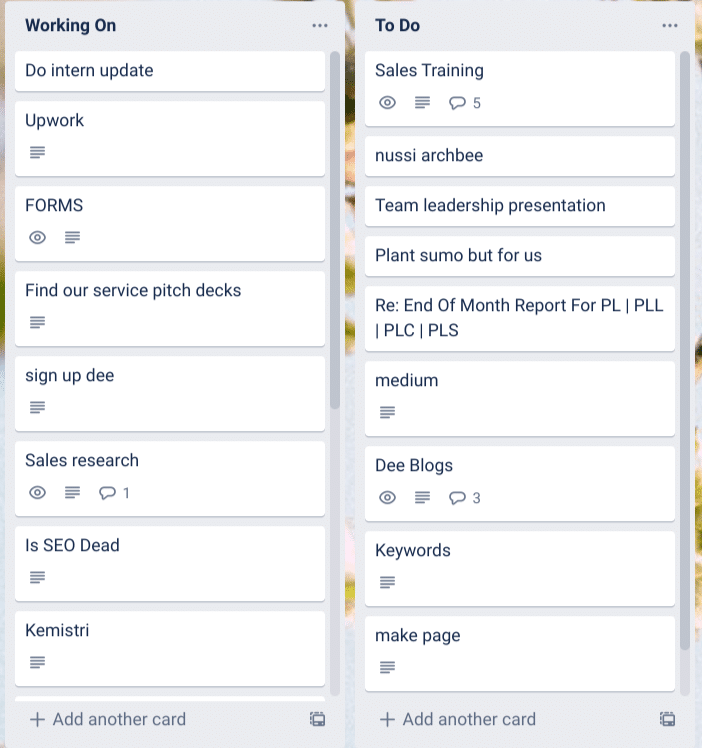 All for now.