So… I'm traveling again.
I am currently writing this on my drive to Philadelphia, PA, in the US to move back into my apartment (although my dog is not making it easy on me).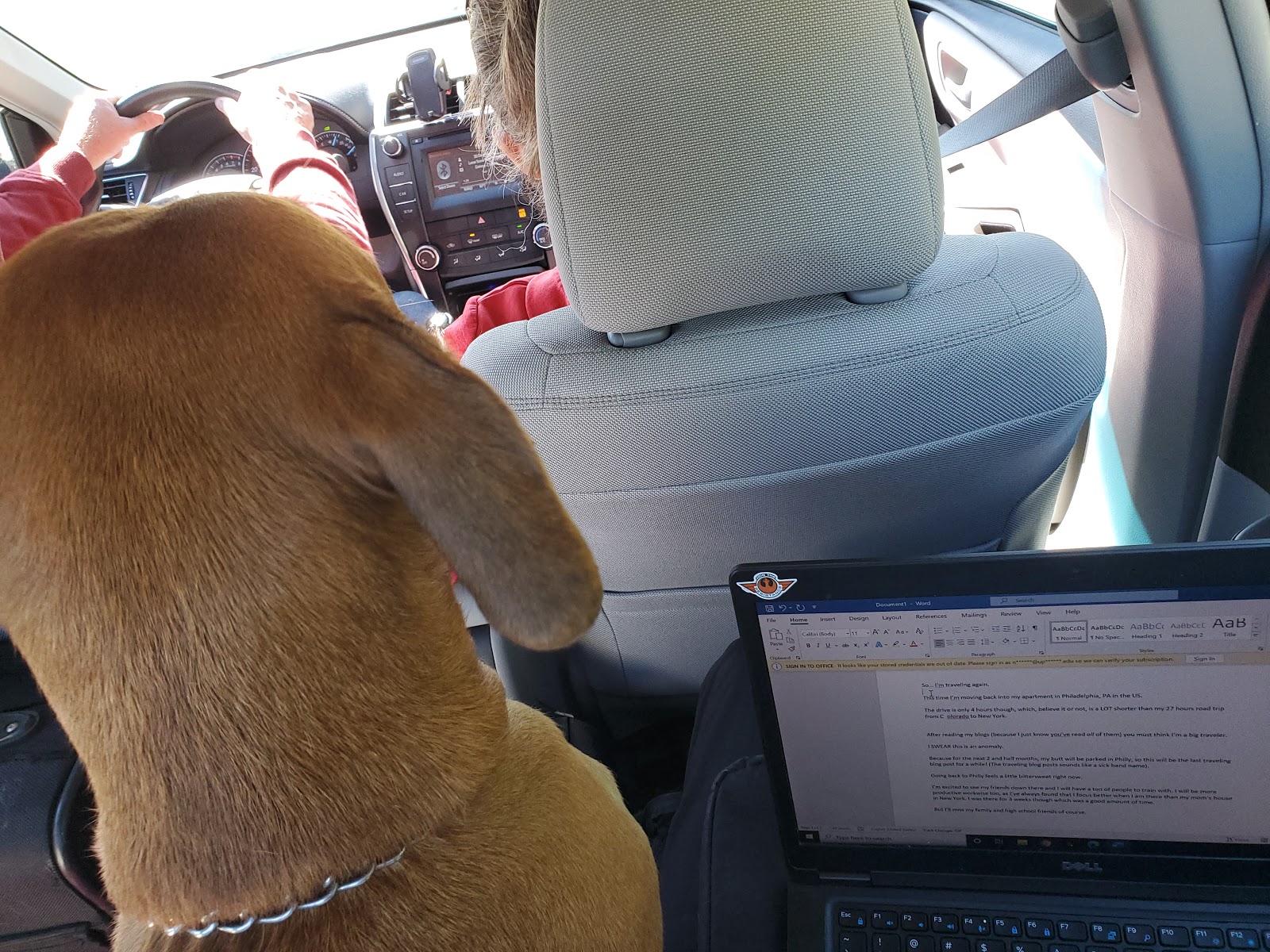 The drive is only 4 hours, though, which, believe it or not, is a LOT shorter than my 27-hour road trip from Colorado to New York.
After reading my blogs (because I just know you've read all of them), you must think I'm a big traveler.
I SWEAR this is an anomaly.
Because for the next two and a half months, my butt will be parked in Philly, meaning this will be the last traveling blog post for a while! (The traveling blog posts sounds like a sick band name).
Going back to Philly feels a little bittersweet right now.
I'm excited to see my friends down there, and I will have a ton of people to train with. I will be more productive work-wise, too, as I've always found that I focus better when I am there than my mom's house in New York.
But I'll miss my family and high school friends, of course.
I was there for three weeks, though, which was a solid amount of time. All good things must come to an end.
In terms of Pearl Lemon, the week has been good!
Writing more guest posts as per usual. So far, we have been hitting our deadlines for those (one of the other content writers, Sarah, has been coming in clutch).
I also wrote another guest post for Family Gifts Co., where I fought for every word to hit 1,500 for a blog about coffee mugs.
Currently mentally preparing to do the same for wine tumblers.
I'm finally starting another long-form piece. Well, my own long-form piece. I'm still helping Lydia work on a 20k guide about In-House SEO.
This one, I'll be doing Han style (Solo), and it will be about LinkedIn lead generation. I don't know a ton about LinkedIn, so I am pumped to research and learn about it. This might actually be a good time to create a LinkedIn account now that I think about it. Next post you read, I'll be mentioning that I made one.
I guarantee it.
Now, this wouldn't be a Noah Content Writer blog post without a podcast update, would it?
On Wednesday, I recorded a test run with my mom!
As I mentioned last week, the podcast is called Founders, and I will be talking to the founders of various companies and businesses. So I interviewed my mom about her life coaching business that she has been building the past few years.

My mom did a fantastic job answering my questions and was a lovely guest, and I'm not just saying that because she is God's gift to the earth.
How did I do, you ask? Good question.
I think I did ok.
There were some things I did well:
I had good energy
Asked provoking questions
 Showed some personality
And as always, some things I could do better:
Transitions between questions
 Felt too much like a straightforward interview
Some questions were a bit generic
My goals to improve are to make it more conversational and to ask more interesting questions.
I've been listening to a lot of podcasts lately (including some of Dee's) to try and pick some things up. Specifically, I am listening to how the host responds to their guests' answers after asking them a question.
That's where I feel I struggle the most because my responses feel forced and don't leave much of an opportunity for a reply.
I'm wondering if it also has to do with my questions because they might encourage closed-ended responses.
The point is I have a lot to analyze!
I plan on doing another test run soon with my Uncle. He has had a construction business for years now.
Tune in next week to hear about how it went!
Let's see what else has been going on?
OH! I MADE A SIGN!
A couple of weeks ago, during a team meeting, Dee recommended that some of us make a "do not disturb" sign to put on our doors when working to minimize disturbances.
Here is mine: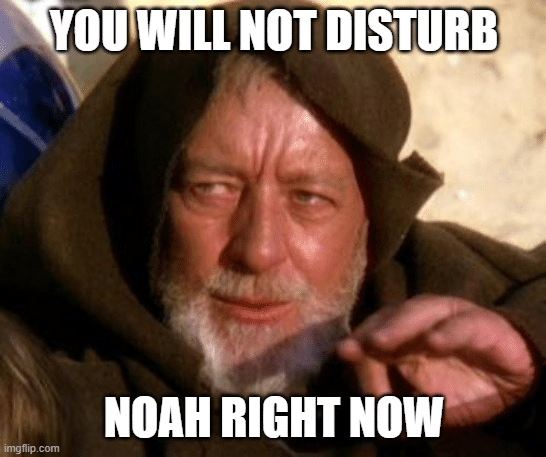 Star Wars is my favorite movie of all time, so I just had to make it Star Wars themed.
I think this will be really helpful because my room is right next to our kitchen, and I can hear EVERYTHING that goes on in there.
It's gotten to the point where I can tell which of my roommates is in the kitchen based on the noise they make. Hopefully, this sign will gently encourage them to make a little less noise when I need quiet.
They're usually pretty good, though.
Well, that just about does it. I can't wait to get to work in a new city!
I'll be sure to let you know how it is all going next week!