Hello again!
Wow, time is really flying by! I feel like I just wrote "Partner blog #4" yesterday! Alas, it has been another week, so let's look at what I've been getting up to…
Last Friday (7/24/20), we skipped our weekly internal meeting because there were multiple people who could not attend. Because of this, we ended up pushing that meeting to this Monday (7/27/20) to maintain consistency. In addition to that, we also had the normal Friday meeting which was led by Federica! Lots of in person (face to face?) interactions this week which only seemed to make it go by faster!
I've continued to check up on the Linkedin accounts we're using for lead generation. Adham and Dino's accounts were actually switched from Kemistri branding to Pearl Lemon Invest, a more brand friendly name with the same services. This was a quick switch because the names were the main thing that needed to be changed, along with withe banners and such.

Joint Linkedin banner for accounts promMandyoting PLL and PLI
The actual leads being generated have actually improved since last week, especially in terms of Pearl Lemon Invest/Kemistri. Since updating the messaging and Linkedin accounts to match, I have been able to get at least 2-3 calls a day booked into Adham's calendar, probably my best record to date. On the other hand, Pearl Lemon Leads is not doing as well. Although I think the targeting is alright, I think the actual messaging being used is deferring people from even connecting with us, much less messaging back. I have calls with Deepak and Adham tomorrow so I hope to have all that sorted within the next few days. Overall, I see improvement in the lead generation campaigns, however, there are still things that I can improve.
I've also been given a few side tasks this week concerning Linkedin. A new client has come to Pearl Lemon and I have been optimizing his profile to be used for lead generation for his own business, Uniforms Online. This is an apparel company that supplies PPE, uniforms, streetwear, and more. I have also optimized the profile of Emilia for another company called All Services 4 U, a maintenance service based in the UK. I think I've actually become pretty efficient at optimizing profiles and it really is a helpful step in the process of lead generation because it allows me to learn so much about the company in question. During the optimization of these accounts, I learned how to operate a VPN (although it took me quite a while), so that changes would not be flagged.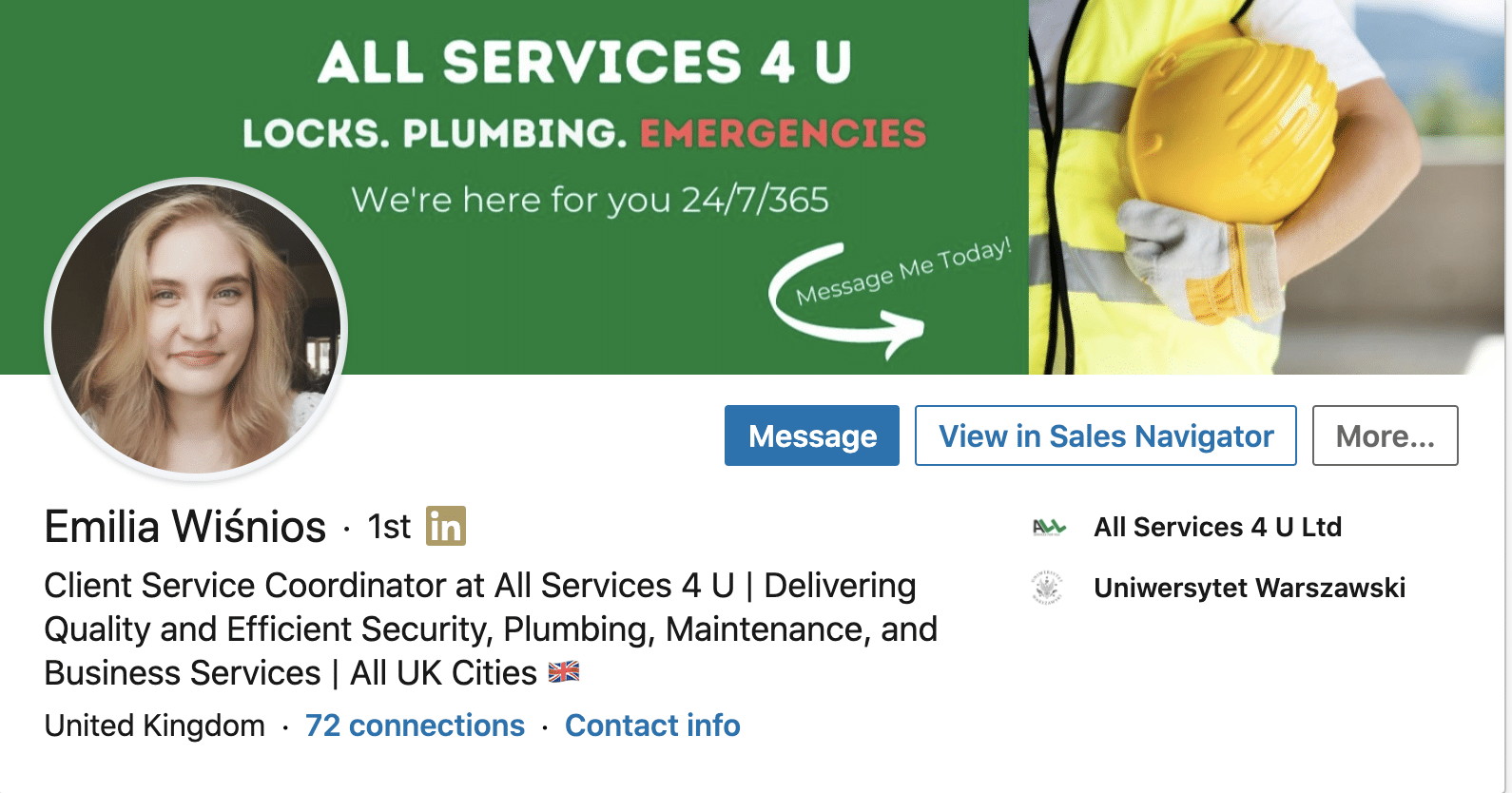 Emila's account optimized for All Services 4 U
This past week the entire team worked on Looms showing their internal processes and presentations. Therefore, a lot of my week was actually composed of giving feedback to others! Whether this was for internal processes, presentations, or specific projects, this has definitely been the most interactive week I've had at Pearl Lemon so far. Additionally, we've been welcoming a bunch of new people into the team within the last couple weeks (even some today!). Aside from Adham, we've also had Tannishtha, Paula, Ben, Sarah, and Noah join the main Pearl Lemon team! I think all these people are great additions and they've been nothing but hardworking, gracious, and smart.
Finally, I've been trying to bust through as much of the video content creation as possible with Fares because it seems to be getting lost in the mix. Every week, I'll try to set aside at least 5-10 hours just for that because it is so time consuming. However, thankfully, Fares was able to start uploading them to Deepak Shukla: Courses and hopefully we will have the rest following up close behind.
Outside of Pearl Lemon, I have finished up one summer course and started another one (degree in sight??). I also spent some time over the weekend finally getting outside to kayak and bike. I've been trying to get into HIIT workouts to shed those quarantine pounds (kilos, haha), but I've found sport-like things to be more engaging. Finally, I was able to give a virtual talk this week about lead generation and the things I've learned about SEO in general for an organization called Women in Data. Women in Data is a non-profit organization that strives to increase diversity in data careers. It's a well established organization and I was lucky enough to get a chance to present at the brand new New Orleans chapter with some amazing women.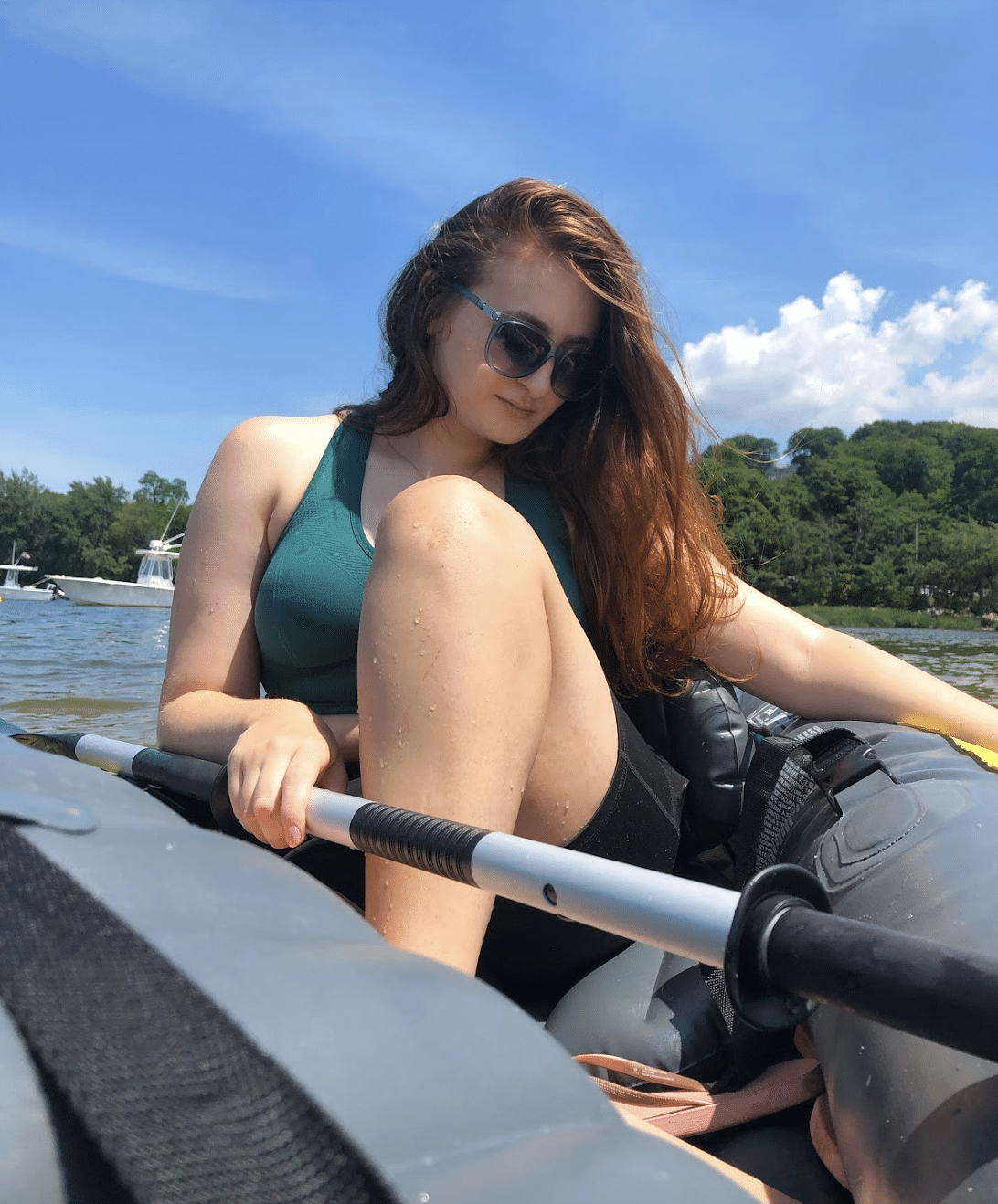 Me kayaking lol
That's all for now! Speak to you next week 🙂