Hey Everybody!
Hope you all are doing good:)
This is Akhila, Marketing Executive at Pearl Lemon. I'm back here to discuss my week with you people. This week been a very busy week for me and I have completed my 1-month trial period. I could say the most awaited day for me and I was very nervous about my selection
HURRAY!! I am selected for the 6-Month Partnership Programme. The most happiest moment for me. I thank all the team members and Deepak for being supportive. Love you all <3
This week I have been actually started working on optimizing YouTube SEO for the videos of Deepak Shukla Channel. I was more interested in this work and excited too. I have actually put a deadline for optimizing a minimum of 10 videos per week and I have actually optimized more than ten videos this week and would like to increase It day by day.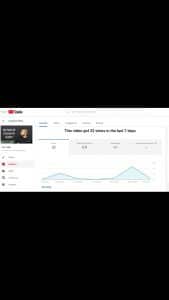 Coming to the work I was performing a few of the routine tasks like extracting leads from the clutch and the job boards. This week I worked on the client task with Tenny – Marketing Associate at Pearl Lemon. This will be my first client task at Pearl Lemon and I was working on the email extraction and Finding the Linkedin URLs of about nearly 750+ for the Client, this was the priority task in this week.
I have actually involved a bit more in HR tasks this week. Federica – The HR success Manager at Pearl Lemon helped with the several looms on how to perform the tasks. I have actually created the email signatures for our new Partners and sent the necessary documents to them and As Usually, I was continuing the Directory listing task in registering all the Pearl Lemon Divisions in several directory websites.
This is something about my work week. The happiest week for me and Thank you all for reading my blog post. I will catch you all next week!
Cya!
Be Safe All!
-Akhila(Marketing Executive)