Hello everybody,
I hope you are all well.
It's Saturday morning 1st August 2020. I cannot believe it's already the beginning of a new month. Here in the North of Italy, it's above 30 degrees today – I cannot imagine how hot it must be in the South now!
This week passed faster than expected and at work, things were easier than expected!
I started the week in the best way ever: I was at the beach!
After spending the whole weekend in Tuscany, I managed to sunbathe and have one last swim on Monday morning, before my almost 5-hours train ride back home.
Here's a picture of a nice sunset at Viareggio's port.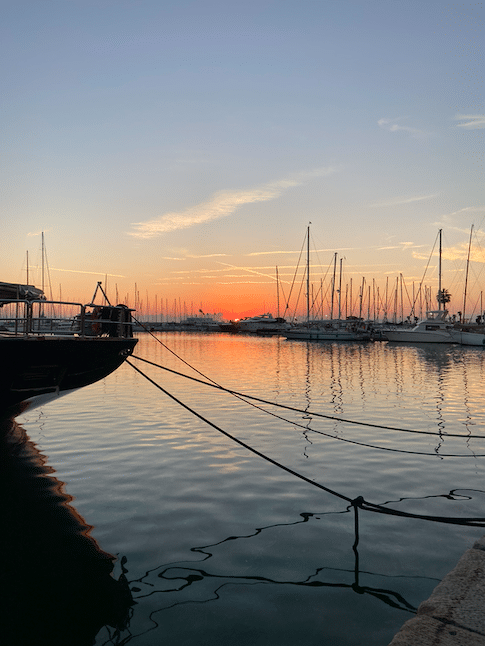 During those days, I even worked at the beach. These are the perks of working remotely and with flexible hours: you can do it everywhere and at any time! I honestly would have not worked at all, but some deadlines had me working a tiny bit.
During the train ride, I had no internet connection because we were going through many tunnels and therefore I couldn't really work. That's the reason why I was expecting tough days once back home to compensate for what I couldn't conclude on Monday. Luckily, I managed things pretty well and got done at least the most important tasks.
Here's a summary of my tasks this week and connected challenges I dealt with:
Creating and posting job descriptions for two new positions:
Ad manager
Social media manager.
This part included some research tasks and overcoming small challenges related to the hiring platforms where I publish job ads.
Following up applications and interviewing candidates.
I am finally pretty quick at this as I mastered all steps pretty well. If you apply to Pearl Lemon, you'll realise our hiring process is pretty unusual. In fact, after applying, the first step is going through a unique form which allows us to collect information about basic requirements we look for in a candidate. Among these questions, we ask the applicant to record an introductory video of themselves and that's among the most important parts. Once we decide to proceed with a person, we try to move the conversation over WhatsApp as it's the app we use the most here at Pearl Lemon. This not only assures us a quicker and more direct communication, but also allows us to have an interview right away.
I like the process so far and how flexible it can get, despite being quite structured. Another good thing we can benefit from here at Pearl Lemon is the possibility to contribute to building and improving systems and processes – this is often a challenge you can learn a lot from, as you need to both understand our needs and know how to interact with the outside world.
As part of my Lead Generation role, I followed up messages as usual with the aim of getting clients on a call to know more about Kemistri. The challenge here was to create and edit documents where I record clients' data, as well as typical responses to make my conversations quicker.
I attended a call about Kemistri between a lead I found last week, Francesco (Italian Marketing Director), Robert (Company Director) and Oliver (Accounts Director). This was useful as it gave me a clearer idea of what the next steps after I find good leads are. I think every now and then I will want to attend similar meetings, also to learn more about Kemistri services.
I think this is all for this week's update. Overall, I learnt a bit every day but I feel like I could do more and better. I'm looking forward to improving in the next few weeks!
I'll talk to you in my next post.
Ciao,
Federica