Hey guys,
How are you doing?
It's the end of another week already.
I feel super tired right now since I got up at 6.30 am this morning (I'm taking the coach today to go see my girlfriend). 6.30 am might be a bit too early for me but I reckon I need to start trying to wake up at 7.00 am every day. The world feels much more peaceful early in the morning….
And I feel like I can get more done.
It's weird because I used to get up at 5.30 am each day to work out when I was in high school. The university lifestyle with its late nights of studying and partying took a toll on my sleep cycle and I'm only now resetting it haha.
Here's a completely unrelated pic of some cacti (I was shopping for presents for my girlfriend): 🙂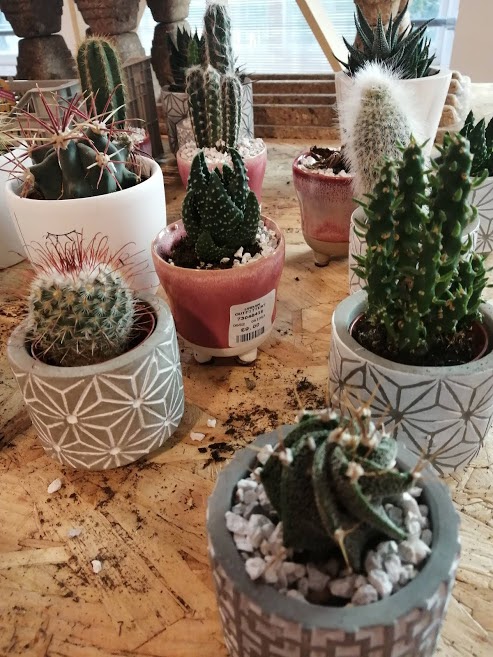 We've had FOUR new partners join Pearl Lemon this week which is exciting. Since I've joined, it seems like the number of partners has grown exponentially. All of the new partners are focussed on content writing which is a good thing since I'll be needing some tips with my Resumecats blog.
And yes, writing the blog post for Resumecats has been very challenging.
I'm writing an article on skills that graphic designers should put on their resume. I had very little understanding of graphic design before I started.
Writing about something that you have little to no prior knowledge on is a skill in itself.
I guess it's made me realise that lots of the blogs and content on the internet are not written by experts who have had years of experience in the field. Some blog posts will be written by people who aren't as experienced as we might realise. That doesn't devalue the content of what is being written! I suppose it's just eye-opening to me.
One of our content writers, Noah, had to write over 1000 words on Men's underwear haha.
If he wasn't an expert before, he surely is now 😉
I've been managing Mandy Linkedin messaging campaigns like last week. Skylar, the lead generation manager has come back from holiday (thank god). Last week I had to manage 4 campaigns with limited help.
It was tough, but I got through it.
I suppose it was a learning process. I definitely have a much better understanding of what to do now.
One quote that Deepak has mentioned before is something along the lines of "If you bite off more than you can chew, that's how you learn to chew the quickest".
That was definitely the case for me last week. I felt like I had bit off more than I could chew but my learning from the experience was extremely valuable.
This week I've only had one Mandy campaign to run (Pearl Lemon Leads). Managing one campaign is much more comfortable than managing four.
Also, Deepak is starting a new business called Plant Sumo which is a London based meal prep company. One of my latest tasks is to optimise the videos on the Plant Sumo Youtube channel. Because of this, I've also been doing some training on Youtube SEO which has been enjoyable.
I'll look forward to actually putting what I've learnt into practice next week.
Catch you in a bit.
– Sam