Hey all! Back again with another quick overview of my week.
It's my 15th week with Pearl Lemon and time is flying by so quickly. At the end of every week, it still surprises me that the days are flying by so quickly – I guess that is bound to happen when there's so much to do!
As you will know by now, I am still working mainly with LinkedIn campaigns – both internally and for clients. Every week there are many changes on this front, whether it be from shifting existing campaigns or bringing new ones into life. With that being said, there have been quite a few shifts in the existing client campaign, Working Den. This is a campaign that focuses on bringing remote workers to the company site. This has been a challenge because many people are 1) not working remotely or 2) not interested in paying for the offered service. However, over the last week, the client has been able to shift the focus of the campaign from paid to free, which has led many more people to be interested (of course, haha).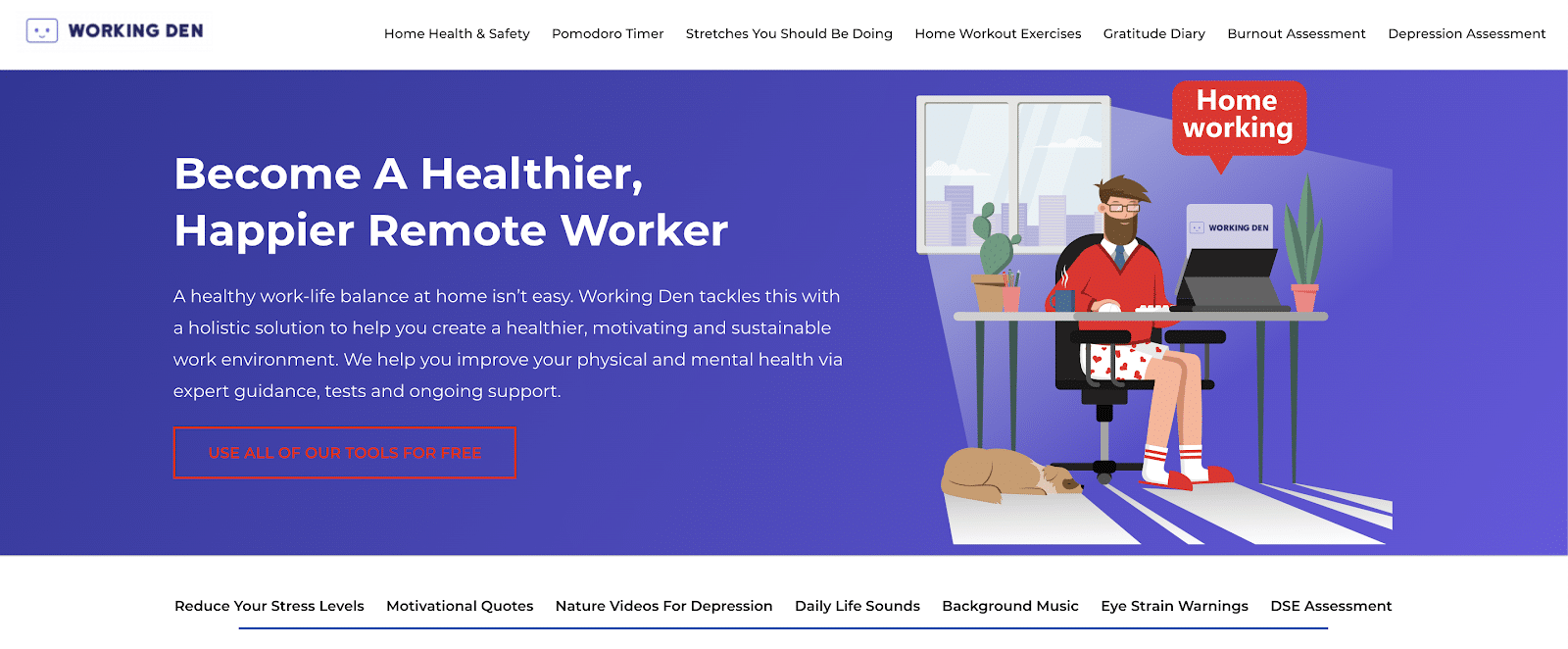 Working Den homepage – greatly altered since the beginning of the campaign!
The other client campaign I am directly working on is for another SEO company based in the US called Sure Oak. I've actually found it easier to get potential clients for this company, perhaps because they are similar in structure and message to Pearl Lemon. When we first signed on with this company I was so confused – I didn't think SEO companies might use each others' services! Either way, monitoring these accounts and consistently updating the clients about our progress has kept me quite busy.
Aside from that, campaigns for Pearl Lemon Leads, Pearl Lemon Invest, and the Pearl Lemon Group are still being run from our own internal accounts. I've launched the new Pearl Lemon Group campaign from Ion's account (one of our callers), and have begun working with him more intently. To handle all this, Sam has been brought on board to help me out. He has been super helpful in almost entirely taking over the PLL campaign, and will be helping out with a new campaign for Pearl Lemon launching this week. Speaking of that new campaign, we brought a new caller on board this week – Daniel, and he will be assisting us in getting and speaking with leads for Pearl Lemon itself.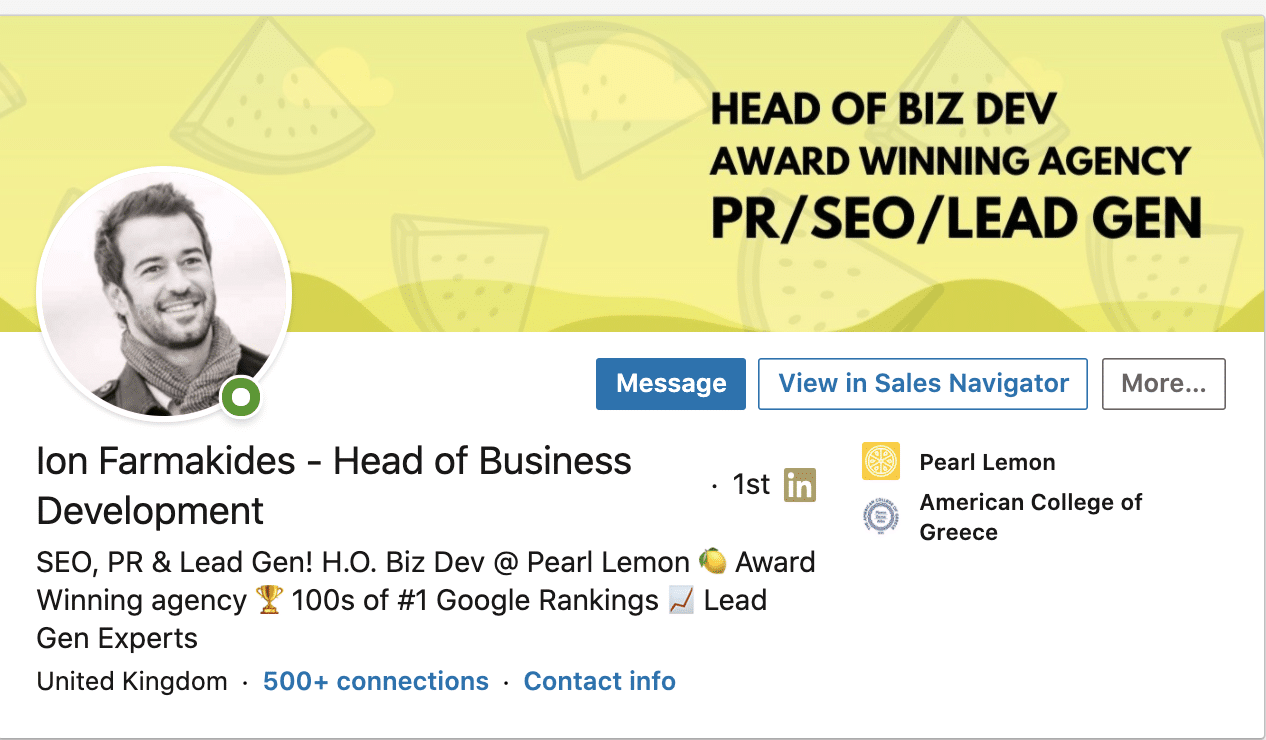 Ion's LinkedIn – optimized for Pearl Lemon Group campaign
Work on the back ends of these campaigns has kept me quite busy as well. Between switching up messaging to building funnels through Zapier, Paperform, and Google Sheets, the more in depth part of lead generation is certainly starting to take up some time. However, I'm glad to be growing in my role and have been able to answer almost any question that others have been asking of me. I think as I grow more in this role, I will be able to expand into leadership roles and even other spaces, both with Pearl Lemon and otherwise.
As you might have noticed, the video course content creation that I've been doing has been pushed to the back burner a bit, but I was able to complete 3 more courses this week – a very time consuming task, so I feel accomplished! As Pearl Lemon continues to grow, we are welcoming new people into the team at a very quick rate. It's great to see the team growing, there are over 20 of us now all across the globe! I can only hope that the company will continue to expand and profits can be secured.
Finally, I have started up my last semester of school a couple weeks ago. Since I do not have a full course load, I am going to be starting a real estate class to fill up a bit of my time and make the most out of this time we are all stuck at home. I've also been trying to get back into cooking and recently made a dinner of chicken burgers and shrimp fried rice for my family.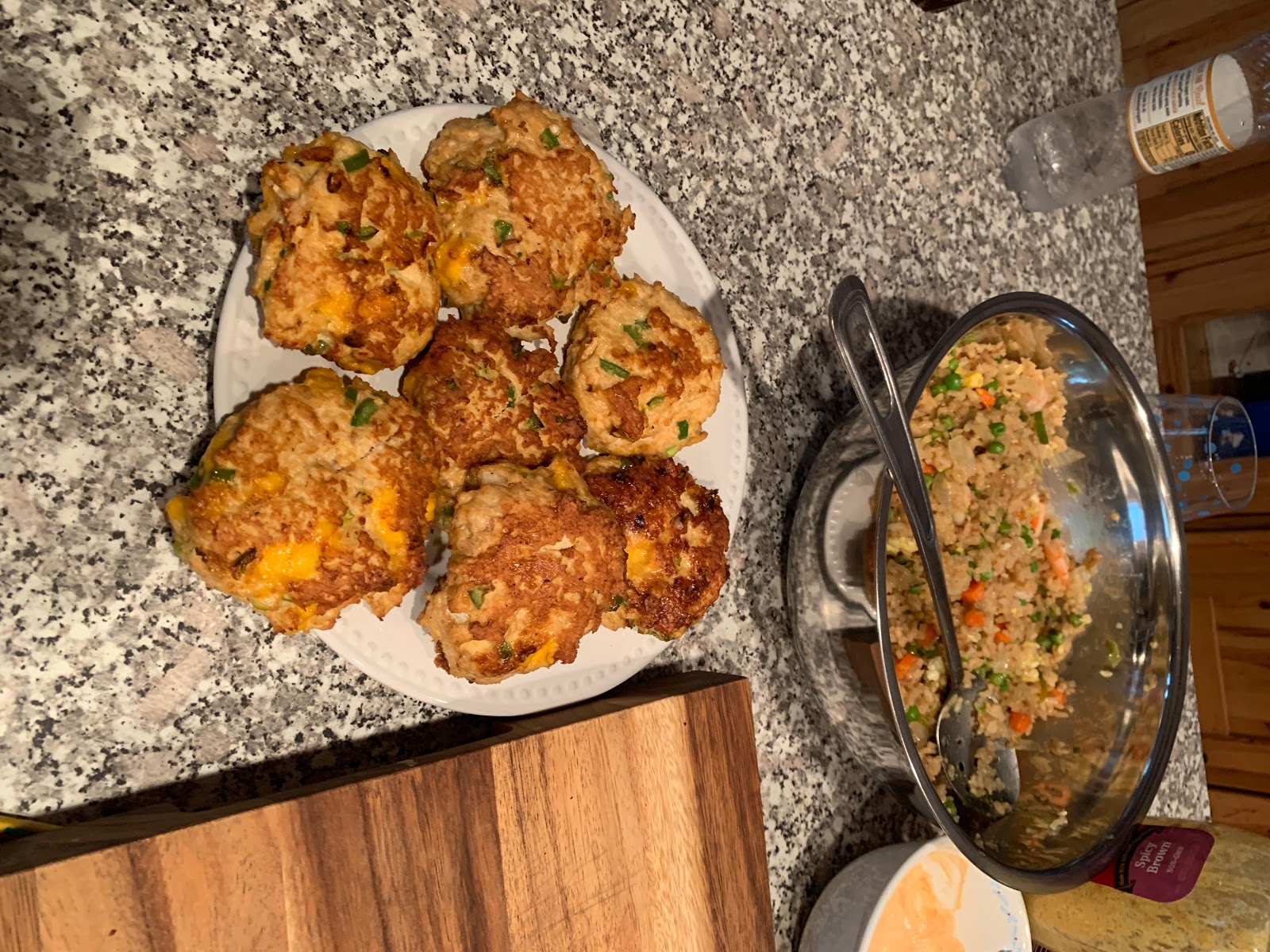 Working on cooking – chicken burgers and shrimp fried rice!
Anyway, I'll check in again next week!