Hello everyone, I'm back again (after a long gap- for obvious reasons, Christmas & New Year) and very excited to share my experiences at Pearl Lemon. Today 08th January 2020, I've been a part of Pearl Lemon for 35 weeks.
Since 11th of December i.e. almost from a month, I've been involved in various tasks from researches, campaigns, roundups, interviews, a client's work and tried many new tools.
Icy Leads is my new partner at work lol- it's a pretty decent tool to get work done i.e. for scraping emails on autopilot from LinkedIn and to more streamline the process I'm trying to combine Icy Leads results with URL Profiler another tool which is packed with tons of features and this combo is gonna be great if works- wait for my newer blogs to see the results.
Apart from those two tools lots of Zaps! & even more, Mailshakes are an integral part of my daily work process of course Paperforms are also pretty helpful and easy to organise stuff.
The combo of Zapier, Mailshake and Paperform has reduced the time taken to work and also streamlined the interview and expert round up process and the PR work with Heather has been buttery smooth since the automation came into force in my workflow
Since the holiday season, many team members left the company and even more, people joined us- didn't meet them all and I'm excited to see everyone (new peeps and the old ones) in today's team meeting.
Lemme do a recap of tasks I worked in the past few weeks,
Did a lot of internal link building tasks from interview campaigns, expert roundups (3 new), manual link building from .edu websites and few other methods.

The scraping work is regular but as I said automation is helpful but it can't be enforced for all the required lists- still I had to do many more manual lists for Plant Sumo, Serpwizz, ResumeCats and also For Pearl Lemon & Pearl Lemon Leads.

Ran a couple of campaigns to feature internal teammates on podcasts, interviews and summits on behalf of all our brand.
Now that Akhila is also fulltime and there's another full-time VA working to help the Research team, we're getting thing done rapidly and looking to knock more tasks in less time but the thing is Pearl lemon is growing even more rapidly and there's a lot more to learn by doing.
From this week you will be hearing from me and also other team members bi-weekly and hoping to knock down many things on my Trello until next blog.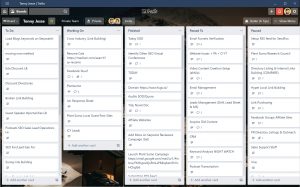 Well, that's it for this week. Catch you next Friday, until then stay safe and will keep posting further updates (TJ at Pearl Lemon)
Thanks!
— TJ